The Mudsharks 3 – Donald Rubinstein – Will Kimbrough
The Horse You Rode In On (J-Ryde Records) is de tweede cd van de Canadese band The Mudsharks 3. Damien O'Brien (zang, gitaren, bas, toetsen, percussie, samples) en Doug Neufeld (zang, drums) schrijven de nummers en vormen de basis. Bassist Jason Overy speelt op deze cd slechts op enkele tracks mee. Met Quarry Rock en Off The Wagon gaan de Canadezen rootsrockend van start. Zoals zo vaak met kleine bezettingen spelen ze met veel energie. Voortstuwend in een punky galop met altijd de bas als stevige basis. Kaal, rudimentair, maar nergens zo hip als bijvoorbeeld The Supersuckers. One-Eyed Judy is verrassend poppy met samenzang die heel in de verte neigt naar doowop uit de jaren vijftig, net zoals Your Pretty Eyes aandoet alsof Fonzie en zijn vrienden even staan te rocken. Stay Out Of The Way is dan opeens veel moderner. Als een vale versie van Black Keys of zo. Prettig amateuristisch, meer niet. Verkrijgbaar bij CD Baby.
Onlangs bespraken we hier de cd Life Is Orange van Manstein, het samenwerkingsverband tussen Jono Manson en Donald Rubinstein. En eerder waren we erg enthousiast over Too Late To Die van laatstgenoemde. Rubinstein beperkt zich niet tot een muziekstijl zoals blijkt op dit Love Hunger (Bare Bones). Op het album staat experimentele klassieke muziek naast meer americana-getint materiaal. Tot die laatste categorie hoort When The Heavens Open, dat geschreven is voor de overleden singer-songwriter Amy Farris. De composities zijn door de jaren heen tot stand gekomen. Rubinstein beperkt zich tot zang, piano, gitaar en synthesizer. Op twee nummers zijn er wat vreemde stemcapriolen van gasten. Alleen op Angels In The Man heeft hij een band aan zijn zijde met daarin ook Bill Frisell (elektrische gitaar). En dan is er nog Solo For Flute In 4 Movements (Movement 3) waarin Stephanie Jutz het instrument bespeelt. Wonderlijk album.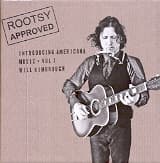 Rootsy Approved is een nieuwe serie cd-boxen van het Zweedse Rootsy Music. Will Kimbrough – Rootsy Approved (Rootsy.nu/Munich) bevat drie cd's. Een live-album, een compilatie-album en de de cd Wings, die we in de volgende recensie destijds vier sterren gaven: Sinds Will Kimbrough zich samen met Tommy Womack lekker uitleeft in de band Daddy met heerlijke barroomrock, is zijn solowerk wat minder heftig geworden. Jammer? Dat valt nogal mee. Want zoals op Wings wederom het geval is, zijn het vooral de capaciteiten als songschrijver die diepe indruk maken. De meeste liedjes schreef Kimbrough overigens samen met anderen. Met Jeff Finlin, Todd Snider, Dave Zobl, Jimmy Buffett, Sara Kelley en Irene Kelley om precies te zijn. Echt goede liedjes maken toch het verschil, dat besef dringt zich vooral op bij beluistering van Wings. Liedjes die je mee gaat hummen omdat je ze al na een paar keer gaat herkennen. Dat is echte klasse die niet een ieder gegeven is. Verbijsterend bijna met wat voor schijnbaar gemak die nummers zich al snel ontpoppen tot waardevolle vrienden. Het met Buffett geschreven titelnummer is een voorbeeld. De prachtige ingehouden Faces-achtige seventiesrock van Love To Spare evenzeer. Fijne koortjes en een orgel klnken in Big Big Love, waarmee Kimbrough de soulkant opgaat. Dat is ook het geval op het met blazers getoonzette Open To Love, dat ook op de schitterende door Kimbrough geproduceerde cd And So It Goes van Dave Zobl is te vinden.