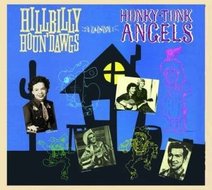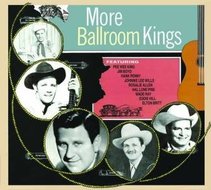 Voor goed gedocumenteerde en uiterst verantwoorde compilaties met een uitstekende geluidskwaliteit van muziek uit de beginjaren van de rock-'n-roll moet je bij het Duitse label Bear Family zijn. De verzamelaars Hillbilly Houn'Dawgs And Honky Tonk Angels (Bear Family/Bertus) en More Ballroom Kings (Bear Family/Bertus) waren een makkelijk klusje. Dit zijn namelijk heruitgaven van oorspronkelijk in de jaren tachtig verschenen compilaties op vinyl op het Engelse Detour. Dat label was een initiatief van engineer Bob Jones, iemand die ook werkte voor Charly, Ace en Bear Family. De technicus met een reputatie op het gebied van studiotechniek en met een grote kennis van vooral Elvis Presley en Duane Eddy overleed in 2009 op 65-jarige leeftijd. Met deze heruitgaven, die met 16 nummers een speelduur van een elpee hebben, brengt Bear Family zijn belangrijke rol onder de aandacht.
Hillbilly Houn'Dawgs And Honky Tonk Angels begint met Hound Dog in een versie van Jack Turner & His Granger County Gang. Het is een opname die drie jaar vooraf gaat aan de versie van Elvis Presley. Wat direct bij dit nummer opvalt, is dat hier niet krampachtig wordt gemusiceerd volgens de regels. Regels waren er namelijk nog niet. En voor zover die er al wel waren, proberen de artiesten op deze twee compilaties daarvan juist af te wijken. Luister maar eens naar Lee Bell met Beatin' Out The Boogie (On The Mississippi Mud). Bell zet een flinke stem op, maar mocht nooit aan het succes proeven dat iemand als Wanda Jackson ten deel zou vallen. De frisheid en persoonlijke stijl maakt het merendeel van deze nummers tot een feest. De levenslust spat er vanaf. Of neem Janis Martin, die overigens als de female Presley wel enige bekendheid kreeg. Een titel als Love Me To Pieces zegt alles. First On Your List van Jack Tucker is ook vol positieve energie, dat kan namelijk heel goed in een liedje dat eigenlijk over misère gaat.
Wie het boekje van More Ballroom Kings bekijkt, beseft waarom dit van die opbeurende muziek is. Die artiesten liepen allemaal in de mooiste cowboypakken rond met uitzinnige versierselen en puntlaarzen met het mooiste stiksel, daar kun je toch niet depressief bij blijven. En met een beetje geluk reden ze ook nog rond in auto's met daarop in grote letters de eigen naam. Mocht je dan toch nog een minder moment hebben, dan vergat je je zorgen wel bij een flesje hadacol, een medicinaal drankje met 12 procent alcohol. Zulks leidde dan weer tot prachtnummers als Hadacol Boogie hier uitgevoerd door Jesse Rogers & His '49ers. Fiddle, steel en klaterende gitaarnoten, de nummers staan er vol mee. Ook in tekstueel opzicht is deze western swing een feest. Om nog maar te zwijgen van die artiestennamen. Texas Jim Robertson & His Panhandle Punchers nemen het huwelijk onder de loep op Jaw Jaw Yap Yap Yap. Dat is doorgaans de tekst van getrouwde vrouwen nadat de eerste glans van het huwelijksgeluk er wel af is. Ook mooi: Waxahachie Dishwasher Boy van Jim boyd & His Boys. Met Pee Wee King en Hank Penny staan er ook wat bekendere artiesten op dit deel.