Bloodshot Records – Malcolm Holcombe – Paladins – Ian Siegal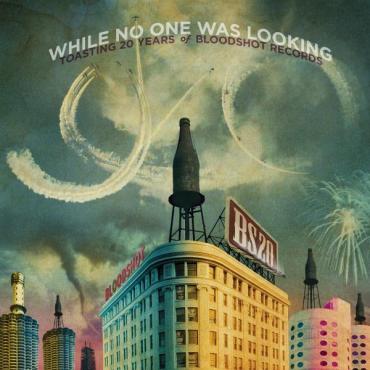 Bloodshot Records brengt regelmatig verzamelalbums uit die inzicht verschaffen in de stand der zaken in de alternatieve country. In 2000 was dat bijvoorbeeld de dubbelaar Down To The Promised Land – 5 Years Of Bloodshot Records. Nu ligt er weer zo'n verzameling verdeeld over twee cd's. Voor While No One Was Looking – Toasting 20 Years Of Bloodshot Records (Bloodshot Records/Bertus) heeft het label uit Chicago een geweldige formule bedacht. Allerlei artiesten brengen nieuwe interpretaties van nummers uit de rijke catalogus van Bloodshot. Blitzen Trapper trapt af met To Be Young Is To Be Sad van Ryan Adams, oorspronkelijk te vinden op diens debuut Heartbreaker uit 2000. Chuck Prophet, Hiss Golden Messenger, Limbeck, Daniel Romano, Nicky Bluhm, Two Gallants, de lijst artiesten is indrukwekkend. Bloodshot omschrijft het zelf als off-hnadcraning styles from gritty punk to back porch folk, dark bedroom new wave to straigh-up honky tonk, and lush power pop to emo. Allemaal van invloed op de geschiedenis van altcountry. Zeer aanbevolen.
Malcolm Holcombe koos ook voor een bijzondere benadering om werk uit zijn oeuvre te verzamelen. Voor de cd/dvd The RCA Sessions (Proper/Bertus) nam hij 16 van zijn nummers opnieuw op. Naast de nummers van zijn albums is hier voor het eerst Mouth Harp Man vastgelegd, een nummer dat hij live zelden overslaat. In de studio in Nashville werd Holcombe begeleid door Jared Tyler (dobro, elektrische gitaar, lap steel, zang), David Roe (bas), Tammy Rogers (fiddle, mandoline, zang), Ken Coomer (drums, percussie), Jellyroll Johnson (mondharmonica) en Siobhan Maher Kennedy (zang) en Maura O'Connell in een duet op A Far Cry From Here.
More Of The Best Of Vol. 1 (Lux Records/Sonic Rendezvous) is de titel voor 16 nummers van The Paladins. Echte fans zullen veel van de albums die op deze hoes staan afgebeeld al hebben. Voor anderen is dit een puike verzameling, omdat de bluesy rockabilly van deze band uit San Diego, Californië, nu eenmaal nooit te versmaden is.
Een live-album is ook een prima manier om een overzicht te bieden van de loopbaan van een artiest. Bij Ian Siegal is dat echter nog niet zo eenvoudig. De Brit pakt de zaken namelijk regelmatig helemaal anders aan. Daarmee houdt hij de spanning er in. Op One Night In Amsterdam (Nugene Records/Bertus) komt hij op met een band, nadat hij op het vorig jaar besproken Man & Guitar solo aantrad. De Nederlandse Rhythm Chiefs bestaande uit Dusty Ciggaar (gitaar, pedal steel), Danny van 't Hof (bas) en Raphael Schwiddessen (drums) vormen een uitstekende combinatie met Siegal (gitaar, zang). Op dit moment zijn ze bezig aan een tournee door Nederland en daarna gaan ze naar Engeland. Met de termen blues of bluesrock doe je Siegal tekort. Hij duikt veel dieper in de roots. Zo horen we hier Gallo Del Cielo van Tom Russell, terwijl de Brit besluit met Please Don't Fail Me van de Groninger Rudy Lentze.