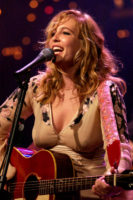 Er valt weer wat te winnen! Op zaterdag 28 januari treedt de Amerikaanse zangeres Tift Merritt op in De Melkweg in Amsterdam. Daags voordien brengt zij haar nieuwe album Stitch Of The World uit. Als je graag wil horen hoe de nummers van die prima nieuwe plaat live klinken moet ons even het antwoord geven (op dit adres: dutchtwang@yahoo.com) op de volgende vraag: Tift Merritt trad ooit op op het Blue Highways festival in Utrecht. In welk jaar was dat ook alweer?
Bij het juiste antwoord maak je kans of 1 van de 2 vrijkaarten die we mogen weggeven.
Op 23 januari krijgen de winnaars van ons bericht.