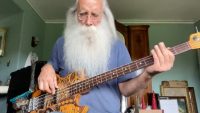 Ik ben in principe niet erg verslavingsgevoelig, hoewel je me niet alleen moet laten met een zak drop in de buurt. En katjang pedis kan ik ook moeilijk laten staan. Maar dat is het wel zo'n beetje.
Tot voor kort. Een week geleden kwam ik toevalligerwijze terecht bij een Youtube-filmpje van Leland Sklar. Leland Sklar? Yep, de le-gen-da-ri-sche bassist uit Californië die sinds het begin van de jaren '70 op talloze albums te horen is. Ik las dat het er inmiddels meer dan 6000 zijn. Je kunt bijna geen Amerikaanse rock-of popartiest vinden die geen album met Sklar opgenomen heeft. Dan vaak samen met drummer Russ Kunkel, gitarist Danny Kortchmar en/of toetsenist Craig Doerge, een drietal met wie Sklar ook een paar, grotendeels instrumentale, albums opgenomen heeft als The Section. Later speelde Sklar ook in Toto en in de band van Phil Collins.
Sinds het begin van de pandemie is Sklar Youtube-filmpjes gaan opnemen en delen. In het begin speelt hij op zijn bas mee met nummers van Phil Collins met wie hij dan net de Not Dead Yet-tour heeft afgesloten. In latere filmpjes doet hij dat met nummers die hij met andere artiesten heeft opgenomen. En weer veel later speelt hij niet meer mee, maar laat hij gewoon nummers horen van allerlei albums waarop hij bas gespeeld heeft. Bekende artiesten, maar ook vaak vrij onbekende namen. Daaromheen vertelt hij vaak verhalen over de opnames. Terwijl ik schrijf heeft hij inmiddels 841 filmpjes geupload. Dat betekent dat hij geregeld meerdere clips per dag uploadt. Soms laat hij geen muziek horen maar vertelt hij verhalen, b.v. over de zogenoemde Producers Switch waarmee hij op de proppen komt (ik ga dat hier niet uitleggen, veel te leuk om het uit zijn eigen mond te horen), laat hij zijn tuin zien of reageert hij op bepaalde zaken uit de actualiteit. Ik heb er nu ongeveer 20 bekeken. Elke keer die man met magistrale witte baard vanuit zijn werkkamer met groene muren. Ik kan niet stoppen met kijken. Zulke goeie verhalen, en ook zo fijn iemand te zien die zo kan opgaan in de muziek. Om het te zien hoe hij met dichte open geniet van hetgeen hij hoort. En bijna altijd eindigt hij met een oproep om aan de mensen te denken die in deze moeilijke tijden gewoon fysiek doorgaan met hun werk, een oproep om het medische personeel te waarderen en om, zodra het mogelijk werd, je toch vooral te laten vaccineren en mondneusmaskers te dragen.
Elke morgen begin ik de dag met Leland Sklar. Mijn dagen zijn er weer een stukje beter op geworden. En er is nog zoveel in te halen!
Leland Sklar's YouTube-kanaal
Dag 1

De recenste