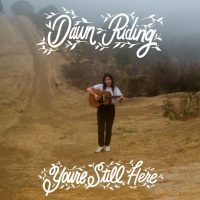 Dawn Riding is een zangeres uit San Francisco. En Dawn Riding heet in het echt Sara Rose Janko. Vrijwel elke zondag van 2021 toog zij naar het Mission District, naar het huis van producer/muzikant Alicia Vanden Heuvel om daar songs te oefenen en op te nemen. Dat heeft geresulteerd in het prachtige You're Still Here (The Log Road Society). Soms intiem en klein gehouden folk/country, soms heerlijk breed uitwaaierende songs. Met het eerste nummer, 9 Lives, geeft Riding gelijk een knipoog naar Merle Haggard als ze zingt over een man die in de gevangenis een eerste tattoo neemt op de dag dat zijn moeder overlijdt: een hart met de tekst 'Mama tried'. Met het nummer bedoelt Riding overigens te zeggen dat we zoveel kansen en mogelijkheden in het leven hebben, gelijk 9 levens. In The Difference wordt de moord op George Floys en Breonna Taylor naar voren gebracht in relatie tot white privilege. Schitterend is ook het intieme Beautiful & Dangerous, over en liefde die veel geeft maar je ook kapot kan maken. Change in Tide heeft mooie rustige percussie en prachtige trompetten (van ene Anna Hillburg). Dit is een plaat zonder fillers; alle 9 songs zijn van buitengewone klasse. Tijd om dit album massaal te beluisteren/aan te schaffen en Dawn Riding moet natuurlijk zo snel mogelijk de grote plas over voor optredens hier.
You're Still Here is vooralsnog alleen digitaal of als Lp te verkrijgen (b.v. via Bandcamp).
Change In Tide zie en hoor je hieronder in een soloversie.