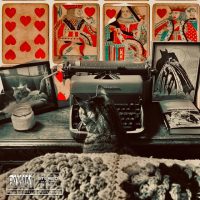 Blood On The Tracks
Ryan Adams heeft nu ook zijn bewerking van Blood On The Tracks van Bob Dylan via de streaming sites gedeeld. Eerlijk gezegd hadden we geen zin om wéér een recensie te schrijven. De man scheidt albums af zoals een ander zijn neus snuit. Laten we het erop houden dat we het niet heel slecht vonden, maar ook niet heel goed. Een beetje… ja… wat eigenlijk? Beetje niks maar wel veel langer. Om jullie te helpen een eigen mening te vormen over het album hebben we de tracks van Dylan en Adams na elkaar in één playlist gezet. Spelen maar (of niet).
Heartland Festival
Het Heartland festival dat jaarlijks georganiseerd wordt in Metropool in Hengelo heeft deze keer een echt spetterende line-up. Op 8 april treden op The Jayhawks, Vandoliers, Boaz, Elliott Brood, Tim Knol & the Wandering Hearts, Alberta Cross, Jesper Jesper en Mell & Vintage Future. Kaarten kosten €38,- 
Gram Parsons eerbetoon
Net is bekend geworden dat op 19 september in het Concertgebouw in Amsterdam het Gram Parsons 50th Memorial zal plaatsvinden. Tal van Nederlandse artiesten, waaronder Freek de Jonge, VanWyck, Blue Grass Boogiemen, Nico Dijkshoorn, Awkward I en wederom Tim Knol & the Wandering Hearts zullen er ter gelegenheid van de 50ste sterfdag van Parson een ode brengen aan de vroeg gestorven koning van de countryrock.  
Nieuw festival
In het Westbrabantse Bergen op Zoom gaat men van start met het Flat Mountain-festival. Op 23 maart zullen in Het Zwijnshoofd optreden: Dieter van der Westen band, Gitta de Ridder, Johnny, Lewin, NinaLynn, The Lasses & Kathryn Claire en Tip Jar. Ja, uitsluitend Nederlandse artiesten dus. Een mooie gelegenheid op de stand van zaken van de vaderlandse americanascene te peilen. Kaarten kosten €25,80.