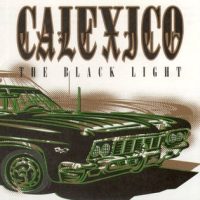 We hebben een zilveren schijf! Het is vandaag namelijk op de dag af 25 jaar geleden dat Calexico The Black Light uitbracht. Dit is de plaat waarmee drummer John Convertino en multi-instrumentalist Joey Burns hun naam vestigden. Burns, toen 29 jaar en Convertino, toen 25 jaar, hadden al een tijd samengespeeld in Giant Sand, de band rond Howe Gelb. Ook hadden ze met o.a. Gelb en pedalsteel-speler Bill Elm in 1995 een instrumentale plaat gemaakt onder de naam Friends Of Dean Martinez. In 1996 volgde een nieuw project, Spoke, waarmee een eerste titelloos album het licht
zag. Een jaar later hernoemden ze zichzelf Calexico en werd dit album opnieuw uitgebracht, met als titel Spoke. Daarop kun je al een eerste aanzet horen van de typische Calexico–sound. Een geluid dat veel verder werd uitgediept op The Black Light. Mede door het gebruik van pedal steel en mariachi-trompetten, waarmee echt de sfeer van het zuidwesten van de de VS, het grensgebied met Mexico, werd opgeroepen. Het album sloeg in als een bom, niet alleen in americanakringen maar ook daarbuiten. Nr. 8 in de jaarlijst van Oor, nr. 22 in de jaarlijst van Uncut. Heel bijzonder, te meer daar The Black Light een album is dat overwegend instrumentaal is. Op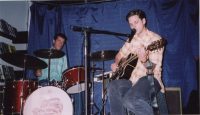 slechts 6 van de 17 tracks wordt gezongen. Nou ja, gezongen, veel meer dan fluisterspreekzang is het eigenlijk niet. Maar het draagt enorm bij aan de wat donkere sfeer die het album uitstraalt en waarmee de klanken van de vibrafoon, Spaanse gitaar en de trompetten dan weer zo mooi contrasteren. In de teksten van die 6 nummers wordt ook een duister beeld geschetst. 'It rained the whole day he spent at his lover's grave / Said his goodbyes to her family and friends' (in Stray). Niet bepaald iets om vrolijk van te worden. Wel een van de hoogtepunten van het album, alsook het fenomenale Minas de Cobre (For Better Metal). Twee nummers trouwens die de mannen van Calexico nog steeds op hun setlist hebben staan. Het album werd opgenomen in de Wavelab Studio van Craig Schumacher in Tucson, en kent net als veel andere albums die daar werden opgenomen, zoals recentelijk nog Sinner's Shrine van Dean Owens, dat speciale wat open geluid. Terzijde: Sinner's Shrine zou wel eens het laatste album kunnen zijn dat daar opgenomen is, want het lijkt er op dat Craig Shumacher het bijltje erbij neer heeft gegooid. Op de website van WaveLab staat de cryptische tekst "It was real. It was fun. And it was really fun. Cya!" en verder niks meer. Na The Black Light zouden de trompetten nooit meer verdwijnen. Op volgende platen zouden zij gespeeld worden door Martin Wenk en Jacob Valenzuela, die daarmee ook vaste leden van de band zouden worden. Calexico zou in het verdere bestaan nog op zoek gaan naar een verdere uitbreiding van het geluid, maar de eerste echte blauwdruk daarvoor is met The Black Light gelegd.