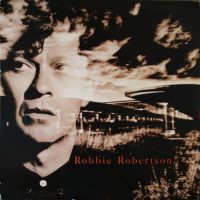 The Last Waltz is in november 1976 inderdaad voor heel lang de laatste (muzikale) wals van Jaime Royal Klegerman, oftewel Robbie Robertson. Hij is het die de stekker definitief uit The Band trekt, maar er overigens wel financiële controle over houdt. Robertson stapt over naar de filmindustrie en gaat samenwerken met de regisseur van The Last Waltz-film: Martin Scorsese. Maar tien jaar later tekent Robertson toch weer een platencontract, met Geffen Records. 
Robbie Robertsons debuutalbum wordt een groots project, waarvan de opnamen plaatsvinden in studio's in Los Angeles, New York, Woodstock, Londen en Dublin. En met een keur aan musici – en met als constante producer Daniel Lanois. Lanois, net als Robertson een Canadees, is een protégé van Brian Eno en is betrokken bij de succesalbums van U2 en Peter Gabriel. Lanois geeft Robertsons album een sound die zich bevindt in de driehoek tussen Peter Gabriels So (1986), U2's The Unforgettable Fire (1984) en The BoDeans' Love & Hope & Sex & Dreams (1986). Robbie Robertson neemt hiermee afstand van het oude, sepia-getinte Amerika van The Band en omarmt de moderne tijden – maar wel met behoud van de inheemse magie en de mythologie van de native Americans. 
Het gelijknamige album begint met tribale drums en atmosferische toetsen; Fallen Angel is een intens eerbetoon aan de een jaar eerder overleden Richard Manuel. Robertson wordt hier begeleid door Peter Gabriel, Garth Hudson en drummer Manu Katché. Robertson kan beschikken over een zeer gevarieerd arsenaal aan begeleiders – want wie wil er nu niet meespelen op het debuutalbum van roots-icoon?  Op de overige tracks zijn dan ook uiteenlopende muzikanten te horen als bassist Tony Levin (King Crimson), Zappa-drummer Terry Bozzio, gitarist Bill Dillon, jazzbassist Larry Klein, Band-kompaan Rick Danko, zangeres Maria McKee, Sam Llanas en Kurt Neumann van The BoDeans, en ook het voltallige U2 treedt aan in Testimony en in Sweet Fire of Love – dat inderdaad zomaar een U2-song zou kunnen zijn. Maar voor het overige trekt Robbie Robertson het album volledig naar zich toe, in een origineel amalgaam van traditionele americana en sferisch modernisme. En dat komt in het bijzonder tezamen in Somewhere Down the Crazy River, samen gezongen met Sam Llanas, een klaar albumhoogtepunt – en ook nog eens een hit.
Catch the blue train
All the way to Kokomo
You can find me
Somewhere down the crazy river
Somewhere down the crazy river
Wereldwijd uitgebracht op 27 oktober 1987 is Robbie Robertson een belangwekkende plaat, die enerzijds de traditionele Band-fans aanvankelijk de wenkbrauwen lichtelijk doet fronsen, maar anderzijds met zijn moderne sound de jaren tachtig-generatie ten volle bedient. Tegelijk traditioneel en modernistisch is Robbie Robertson in 1987 gewoon om die reden een van de beste platen van dat jaar. Reguliere albums verschijnen er spaarzaam in de loop de tijden, vooral omdat Robertson zich concentreert op het produceren van filmsoundtracks. Niets overklast echter dit bijzondere eerste soloalbum.
Robbie Robertson. Geffen records, 1987. Fallen Angel | Showdown At Big Sky | Broken Arrow | Sweet Fire of Love | American Roulette | Somewhere Down the Crazy River | Hell's Half Acre | Sonny Got Caught in the Moonlight | Testimony 
Eerder gepubliceerd in Rootsrock – 53 singer-songwriters in de periode 1980-2000 die rocken. Uitgeverij kleine Uil, 2021
Robbie Robertson overleed op 9 augustus 2023