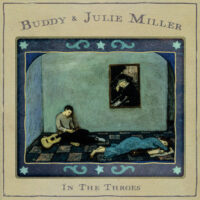 Als Buddy Miller zijn rauwe gitaarklanken flink laat resoneren, dan is bijna sprake van garagerock. De donkere noten brengen de woofers van de luidsprekers op meerdere nummers flink in beweging. Op Don't Make Her Cry is dat bijvoorbeeld het geval, een nummer waarop bas en orgel vanaf de begintonen aansturen op countrysoul. In The Throes (New West Records/V2 Benelux) is toch wel weer een bijzonder werkstuk van het echtpaar Buddy & Julie Miller. Ze beginnen met You're My Thrill, waarop ze duidelijk maken dat de liefde een goed instrument is om gevoelens van melancholie te verjagen. Julie zingt het met haar nogal schelle stem, die nogal eens als kindstemmetje wordt omschreven. Daar zit wat in, je hoort het ook op het titelnummer over het verwerken van een verbroken relatie.
Het geluid van het echtpaar is allesbehalve clean. En de zang van Julie eigenlijk allesbehalve lieflijk. Op dit stampende nummer is ze bijna Texacala Jones (Tex and The Horseheads). I've Been Around is bijna schaamteloos te noemen. Julie raakt een vorm van gekte, maar bewijst dat ze sterker is dan afkeurende blikken. Buddy moest haar wel overtuigen om het nummer te behouden trouwens. Julie was wakker geworden met een complete tekst in haar hoofd. Hij zat beneden nog in de studio te klooien en ze zong een stukje voor hem, zodat hij er wat bij kon bedenken op gitaar. Daarna zong ze de hele tekst in een keer, waarna ze weer naar bed ging. Beiden vergaten het nummer, totdat Buddy bezig was met oude opnamen te wissen. Totdat hij dit weer hoorde.
Julie beleefde een ongekend creatieve periode en schreef het ene na het andere nummer. The Last Bridge You Will Cross kwam er ook in een keer uit, nadat ze op het nieuws had vernomen dat de politicus John Lewis was overleden, een strijder naast Martin Luther King tegen de rassenscheiding. Hij liep voorop in de protestmars van Selma naar Montgomery en liep daarbij een schedelbreuk op door klappen van een woedende groep blanken. De cello van gast Matt Slocum (Sixpence None The Richer) zorgt voor extra treurnis. The Painkillers Ain't Workin' begint met bijna psychedelisch gitaarspel. Het door Buddy gezongen I'll Never Live It Down is onversneden alt-country. En We're Leavin', over de grote oversteek naar de Verlosser, is pure gospel in de stijl van The Band. Met vioolspel van Stuart Duncan.