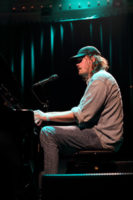 Crossing Border, 2009. Naast namen als Mumford & Sons, The Decemberists, Patrick Watson en Natalie Merchant stond daar in Den Haag ook ene Daniel Norgren geprogrammeerd. Een boomlange, onbekende, Zweed uit Borås. Hij moest het die avond ergens in een bovenzaaltje zien te doen; als een one-man band. Gewapend met gitaar en 'behangen' met de nodige percussie kweet hij zich met passie van zijn taak. Ten tijde van dit optreden had Norgren twee albums het levenslicht doen zien. Een muzikant die toen al ergens aan Neil Young deed denken.
Anno 2019 staat de teller op acht. Zijn laatste –Wooh Dang– is net uit, en dan is het logisch dat er een tour wordt ingepland; een vrij lange tour overigens met slechts één stop in Nederland. In Paradiso, afgelopen maandagavond. Deuren vroeg open, en aanvankelijk rustig & stil.
Onder de klanken van muziek van o.m. The Beatles (!) liep de grote zaal echter allengs voller én voller. Het was al tien voor negen eer Norgren en zijn begeleiders het podium opzochten. Wat volgde was een optreden waar de gitaren uiteindelijk domineerden, dit onderbroken door een aantal ingetogen intermezzo's. Uiteraard lag de nadruk vooral op songs van Wooh Dang, met The Flow als opener. Een mooi opgebouwde, lange song met als intro wat soundscapes. Norgren, gezeten achter een gammel ogende piano, bracht het met verve en gepassioneerd. Met The Power en The Day That's Just Begun bleef Norgren de 'dronken' piano hakkelend teisteren alvorens zijn gitaar te omgorden. Ook zijn band (met o.a. Anders Grahn en Andreas Filipsson) vervulde een niet te misse rol. Qua verbindende teksten was het wellicht wat karig, hoewel de quote 'A perfect night, I love saturday nights' wel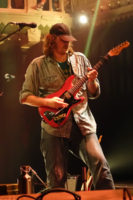 overkwam, evenals de introductie van een vijfde, vaak niet zichtbare, bandlid. Die verzorgde af en toe wat aanvullende percussie. Met Music Tape ('I mowed the lawn with his lawnmower, and in a week or two the grass will be tall again') van het album Buck ging het successievelijk redelijk los; een klein kwartier lang. Van Buck dan ook nog Black Vultures, maar dan zonder accordeon. Een avond Scandicana in optima forma. En waar Norgren op zijn albums sowieso niet op zoek gaat naar perfectie, daar gebeurt dat live op zeker ook al niet. Het gaf al bij al een lekker schurend, rammelend randje.
Wat Norgren eertijds op Crossing Border al deed, dat deed hij maandagavond in Paradiso opnieuw: vrij ongecompliceerd musiceren. Lekker ongedwongen rammelen, dit alles met zichtbaar spelplezier. Dat sloeg over op de nagenoeg volle zaal. En dat het soms ongemeen fel en hard was, ach, daar bleken de (gratis) oordoppen in Paradiso enig soelaas voor te bieden. Neil Young heeft geen Zweeds broertje, nee, hij heeft in Norgren een GROTE broer!
Foto's:Peter Hageman