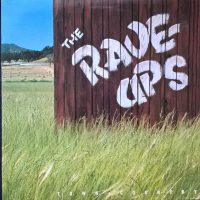 Jimmy 'Jimmer' Podrasky (zang/gitaar), Terry Wilson (gitaar), Tommy Blatnik (bas) en Timothy Jiminez (drums) werken in 1985 gevieren op de verzendafdeling van A&M Records in Hollywood. In de nachtelijke uren oefenen ze met hun band The Rave-Ups stiekem in een lege studio. The Rave-Ups krijgen gestaag vorm met hun repertoire van country, folk en poprock. Dan krijgt de band het voor elkaar om in de A&M Studios een plaat te mogen opnemen, maar wel in dode studiotijd. Terwijl de studio's volop in gebruik zijn door Michael Jackson, Bruce Springsteen, Bob Dylan en Willie Nelson voor de opnamen van We Are the World, nemen The Rave-Ups in de lege studio-uren voor het piepkleine Fun Stuff Records, na de eerdere mini-lp Class Tramp, hun debuutplaat Town + Country op – maar wel met Stephen Barncard, producer van Grateful Deads American Beauty (1970).
Town + Country omvat tien songs die gezamenlijk onder de noemer punky rootsrock te categoriseren zijn. Uptempo en springerig zijn Remember (Newman's Lovesong), In My Gremlin, By the Way en de rockabilly van Rave-Up/Shut-Up; Class Tramp en Better World is melodieuze rootsrock; You Ain't Goin Nowhere een Dylan-cover; en Radio sublieme weemoedige country, met een hoofdrol voor de pedalsteel van Flying Burrito Brother Sneaky Pete Kleinow. Als single wordt van Town + Country getrokken Positively Lost Me, dat met een beetje hulp een flinke Amerikaanse hit wordt.
Jimmy Podrasky is het vriendje van de zus van actrice Molly Ringwald. Zij krijgt producer/regisseur John Hughes zover dat The Rave-Ups te zien zijn in de teenager-comedy Pretty in Pink (1986). Zij spelen Positively Lost Me – en als de film een kaskraker wordt, wordt ook Positively Lost Me een soort van culthit. Maar het brengt The Rave-Ups uiteindelijk weinig goeds, omdat ze vermalen worden tussen de kaken van de platenindustrie. De platen die verschijnen zijn allerminst succesvol en ook nauwelijks de moeite waard, zodat in 1992 het doek voor The Rave-Ups valt.
Positively Lost Me | Remember (Newman's Lovesong) | Better World | Class Tramp | In My Gremlin | Radio | By the Way | Not Where You're At (But Where You Will Be) | You Ain't Goin Nowhere | Rave-Up/Shut-Up