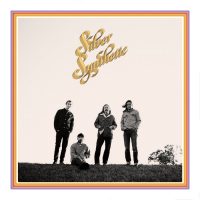 Met bandleden afkomstig uit Bottomfeeders en Jeff the Brotherhood komen ze uit de hoek van de garagepunk, maar Silver Synthetic, een kwartet slackers uit New Orleans, Louisiana, is something completely different. Relaxte, slome countryrock is het ding van de kosmische neo-hippies. Ja: chooglin' countryrock.
Silver Synthetic brengt zijn zelfgetitelde debuutalbum uit bij Jack White's Third Man Records, een goeie move, want het brengt een soort van coole hipness. Anderszins kan Silver Synthetic dat ook best op eigen kracht, gewoon omdat de debuutplaat – op prachtig marble vinyl – een voortreffelijke zonovergoten Westcoast rockplaat is: mooie liedjes, fraaie harmoniezang, lome gitaarsolo's. Silver Synthetic landt ergens tussen Beachwood Sparks en The Allah-Las, maar als de mannen even uit hun luie comfortzone komen, zoals in Out of the Darkness horen we de springerige nervositeit voorbijkomen van Television en ook The Strokes. In the Beginning is dan weer traag, stroperig en even countrified als The Velvet Undergrounds Oh! Sweet Nuthin'. In deze steady state is Silver Synthetic op zijn best; schitterend zijn dan ook de Byrdsy liedjes Unholy Love en On the Way Home, slechts overtroffen door Chasm Killer – vanwege het lyrische gitaarwerk.
Zelf noemt Silver Synthetic hun muziek 'relaxed rock & roll minimalism', oké, maar ik noem het chooglin' countryrock. Met andere fijne bandjes als Pacific Range en The Pink Stones valt beslist een hele nieuwe stroming kosmische countryrock te omarmen. Silver Synthetic is daar zeker bij; prachtige plaat.
In the Beginning | Unchain Your Heart | Around the Bend | Chasm Killer | Out of the Darkness | Unholy Love | Some Of What You Want | On the Way Home