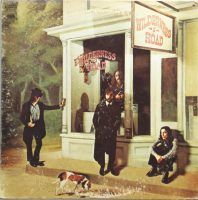 Het eerste live-optreden van Wilderness Road is in 1968, tijdens een anti-Vietnam-demonstratie in hun woonplaats Chicago, Illinois. De band is op het podium niet alleen politiek geëngageerd, maar ook chaotisch en satirisch. Hun soms onnavolgbare tongue-in-cheek countryrock levert het viertal, Nate Herman (zang, gitaar, orgel), Warren Leming (gitaar, banjo), Andy Haban (bas) en Tom Haban (drums, hobo), een geduchte live-reputatie op. En dat wordt in 1971 beloond met een contract met Columbia Records. 
Het zelfgetitelde debuutalbum is ontdaan van de ontregelende chaos van de optredens, en klinkt helder en clean: klassieke countryrock met fraaie samenzang en scherpe elektrische gitaren. Wilderness Road is een soort van wildwest-rockopera waarin rondreizende priesters, louche sheriffs, premiejagers en vanzelfsprekend voortvluchtige boeven figureren. Opener Wilderness begint met spookachtige hobo-klanken, maar gaat dan al snel over in onvervalste countryrock. Zo biedt het album vooral en voornamelijk gitaargedreven rock met veel harmoniezang; vergelijkbaar met The Eagles, The Outlaws en Pure Prairie League. En dat uit zich in de vele hoogtepunten: Had the Right, Pictures in A Gallery en het fantastische Bounty Man, waarin alle kwaliteiten van Wilderness Road samenkomen. Wilderness Road is een uitermate sterk album, met ook nog eens een fraaie hoes: een vette knipoog naar Edward Hoppers schilderij Seven A.M.
Sterk album of niet, Columbia laat Wilderness Road stikken omdat de band niet een hitsingle in zich heeft. Ze ploeteren voort, maken in 1973 nog een plaat voor het Reprise-label, maar het publiek blijkt toch niet gevoelig voor de cynische humor van Wilderness Road. En dus stoppen ze. Wat overblijft is het avontuurlijke wildwest-countryrock-album Wilderness Road, het alternatief voor en de voorloper van Desperado (1973) van The Eagles.
Wilderness | Quesy Rider | Peaceful Life | Revival | Had the Right | Pictures in A Gallery | Bounty Man | Dr. Morpho's Revenge | Death Dream | Don't Cry Lady | Rider's Return