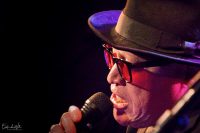 Hij vertoefde al eerder in ons land vanwege zijn rol bij The Sound Of The Blues And Americana, de theatertour geïnitieerd door Johan Derksen: de Texaan Malford Milligan. En  vervolgens kwam hij door al het 'gedoe' zelfs min of meer in ons land vast te zitten, want de tour werd vanwege de beperkingen immers op enig moment stilgelegd. Sinds kort is de JD- tour echter weer hervat (voor zolang het duurt) en is Milligan alweer even geleden wederom vanuit Texas ingevlogen. En deze keer niet alleen voor de JD- tour, maar ook om samen met The Southern Aces hun nieuwe album I Was A Witness voor te stellen. Een album dat tijdens de onderbrekingen tot stand kwam en recent werd uitgebracht. Afgelopen vrijdag was Rotterdam, BIRD om precies te zijn, aan de beurt om dit album aan het publiek live te promoten. En dat deed Milligan & consorten met verve.
Met de opvolger van Life Will Humble You (2018) onder de arm heeft de voormalige frontman van o.a. Storyville behoorlijk wat marge om een aansprekende setlist te componeren, hoewel Milligan & zijn Aces sowieso niet verlegen zitten om materiaal. De 2e worp, op deze site al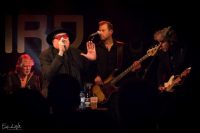 terecht lovend (zie recensie) beschreven, biedt het nodige om verteld te worden, terwijl dus ook het eerdere werk én wat covers niet onaangeroerd zouden blijven. Met een uiterst gedegen ritmesectie (Fokke de Jong: drums; Roelof Klijn: bass); een uitstekende, inventieve gitarist (Eric van Dijsseldonk); een weergaloze toetsen-virtuoos (Roel Spanjers) én een verbinder op rhythmgitaar (Jack Hustinx) -ofwel: The Southern Aces- in zijn rug wist Milligan te overtuigen. Geweldige strot; uitstekende performer. Van meet af aan nam Milligan het publiek mee in zijn ooggetuigeverslag des levens; een leven van toen maar ook van het heden, want zijn nu in het document I Was A Witness vastgelegde levenservaringen zijn immers nog maar wat vaak actueel. Of wellicht beter: weer steeds actueler.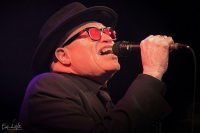 Met een optreden van een kleine 100 minuten werd de goed gevulde zaal van BIRD uiteraard getrakteerd op een bloemlezing van I Was A Witness, met Stephen Bruton's (& Randy Jacobs') prachtsong This Old World als fijne aftrap. Milligan praatte de songs met korte, gevatte & humorvolle zinnetjes aan elkaar; bij de introductie van de bandleden, in het begin, verkreeg drummer Fokke de Jong bijvoorbeeld de hoofdprijs voor de beste voornaam, en ook refereerde hij fijntjes aan de juist beëindigde persconferentie en de daarbij aangescherpte regelgeving als opmaat naar de song Freedom Ain't Free. Zo van: 'wat nou vrij'? Met JW Roy's Until The Rain en Gary Nicholson's All This Love omlijstte Milligan eigen songs als Take A Knee; I'm Worried en I Won't Surrender. Songs uit eigen pen, ja, al dan niet geschreven met een van zijn Aces. In de dubbele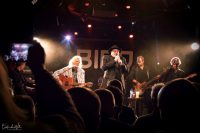 toegift dan nog Arms Around The World van Rotterdammer Dennis Kolen en Charlie Rich' Feel Like Going Home met de aanvullende vocalen van Roel Spanjers.
Fijn optreden van een prima ingespeelde, competente band; een band die het verzoek vanuit het publiek voor een extra toegift ook nog honoreerde met Yo Yo. En zo was ook het slot van Milligan & zijn Aces er een met Stephen Bruton in gedachten.
Foto's: Erik de Wit