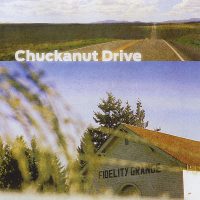 In een betere wereld zou de naam Stephen Ray Leslie bekender zijn, maar nee. Wel prijzen volgens de overlevering bandleden van Uncle Tupelo en The Flyin' Burrito Brothers al vanaf 1999 Leslie's band Chuckanut Drive aan, maar het zal nog tot 2008 duren voordat er representatief werk verschijnt: Fidelity Grange is dat werk. 
Steve Leslie is een Texaan die in Seattle, Washington belandt. Tussen het grunge- en gitaargeweld aldaar manifesteert Leslie zich met zijn band Chuckanut Drive echter met altcountry en countryrock. En dat blijkt ingewikkeld, gezien het feit dat Leslie en zijn band pas in 2008 debuteren – wel met het geweldige Fidelity Grange. Die plaat beweegt zich tussen magnifieke en tegelijk stevige gitaarsongs als When the Workin's Done, Fallin' Still en Half-Hopin' en de meesterlijke treurigheid van een liedje als Burning .44 en het toch wel door scherpe gitaren aangedreven maar niettemin sombere Won't Get You Anything.
Fidelity Grange is een pure altcountryplaat, maar wordt in 2008 door nagenoeg niemand opgemerkt. Chuckanut Drive desintegreert; het talent van diens zanger en songschrijver verpietert. Waar zou hij zijn, deze Stephen Ray Leslie?
Fidelity Grange. Ragtown Records, 2008. The Ballad of Becky & Bobby | Closer To Me | Kickin' in Your Door | When the Workin's Done | Hangin' Up | Tombstone | Falling Still | Burning .44 | Half-Hopin' | Whippoorwill Blues | Warm It Up | Won't Get You Anything | Broken Promise Land 
P.S. Met dank aan Ron Jans.