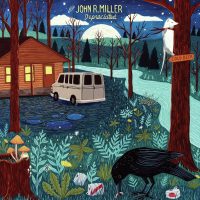 John R. Miller is afkomstig uit het meest oostelijke hoekje van West-Virginia, een landelijke streek die omkranst wordt door de Potomac rivier. Met zijn baseballcap, tattoos, denim-outfit en woeste baard is Miller een man uit de backwoods van ruraal Amerika: een ideale singer-songwriter. Miller groeide op met zingen in de katholieke kerk, punk en traditionele fiddle-muziek. Maar ook met tweedehands auto's, wodka en chemische drugs. Miller baste in The Hackensaw Boys, maar is met zijn Depreciated  uiteindelijk zijn eigen man; ja, een ideale singer-songwriter.
Hoewel er in 2014 een soort van eerste album is en een volgende met The Engine Lights in 2018, gaat Depreciated, in 2021 uitgebracht op Rounder Records, door voor een solo-debuutalbum. In dat geval is het een geweldig debuut. Miller zegt als songwriter vooral beïnvloed te zijn door groten als John Prine en Guy Clarke – en dat hoor je in schitterende songs als 'Faustina', 'Shenandoah Shakedown', 'Coming Down' en 'Back and Forth'. Kaal is Millers sound allerminst, want zijn coole zang weet zich omringd door elektrische gitaar, bas, drums, Wurlitzer-piano, pedalsteel en fiddle. Een rijk, warm en organisch geluid. En meer nog: ook de countryblues van mannen als Larry Jon Wilson en Ramsey Midwood en de laidback swampsound van J.J. Cale klinkt overduidelijk door in prachtliedjes als 'Lookin' Over My Shoulder' en 'Borrowed Time'. En dan: de verstilde afsluiter 'Fire Dancer'…
Wat Depreciated per saldo zo'n geweldige plaat maakt is het gemak, het plezier en de slome ontspanning waarmee John D. Miller zijn songs aan het vinyl c.q. plastic heeft toevertrouwd. Laidback country in optima forma, waarbij naast het oor het oog ook wat wil: prachtige hoes en fraai geïllustreerd tekstvel. Is Depreciated een perfecte americana-plaat? Je zou het bijna zeggen.
Depreciated. Rounder Records, 2021. 'Lookin' Over My Shoulder' | 'Borrowed Time' | 'Faustina' | 'Shenandoah Shakedown' | 'Coming Down' | 'Old Dance Floor' | 'Motor's Fried' | 'Back and Forth' | 'What's Left of the Valley' | 'Half Ton Van' | 'Fire Dancer'