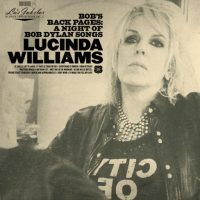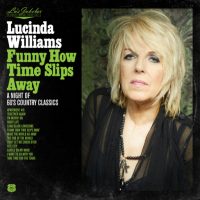 In de sectie roundup schreven we eerder al over het album met nummers van Tom Petty dat Lucinda Williams in deze coronatijd had opgenomen. Dat er daarna ook een cd met soul verscheen (van Memphis tot Muscle Shoals) stond vermeld in de reacties onder dat stuk. Inmiddels is Williams al bij deel 6 (Rolling Stones). Op deel 5 doet ze kerstnummers, maar hier willen we het nog graag hebben over deel 3 en 4. Die zijn nog niet in de kast verdwenen, maar liggen al een flinke tijd op het bureau. In eerste instantie kun je je niet aan de indruk onttrekken dat de begeleiders zich iets moeten inhouden. Want van solo's is nauwelijks sprake. Maar na een paar keer luisteren valt juist op dat ze geweldig goed op de noten zitten. Ze spelen met overgave covers in de sfeer van de originelen, maar bieden Lucinda alle ruimte om er haar eigen stempel op te drukken.
Bob's Back Pages: A Night Of Bob Dylan Songs (Lu's Jukebox – In Studio Concert Series Vol. 3) (Highway 20 Records/Thirty Tigers) vangt aan met It Takes A Lot To Laugh, It Takes A Train To Cry, oorspronkelijk te vinden op Highway 61 Revisited. Sterke opener en daarna blijft het album overtuigen, welke periode van Dylan hier ook behandeld wordt. Het van Oh Mercy afkomstige Everything Is Broken begint met gitaarwerk van Stuart Mathis dat schatplichtig lijkt aan Link Wray. Later in het nummer laat hij zijn wah-wah spreken. Zenuwachtig klinkt het en dat geldt ook voor het eveneens van Oh Mercy afkomstige Political World, dat met ruim acht minuten alle ruimte krijgt.
Funny How Time Slips Away: A Night Of 60's Country Classics (Lu's Jukebox – In Studio Concert Series Vol. 4) begint met Apartment #9, geschreven door Bobby Austin en Johnny Paycheck en de hitlijsten ingezongen door Tammy Wynette. De band is dezelfde als op het derde deel: Fred Eltringham (drums), Steve Mackey (bas), Stuart Mathis (gitaren), Joshua Grange (pedal steel, banjo). Op de Dylanplaat speelt Grange toetsen en gitaar, terwijl Tim Lauer ook nog toetsen beroert op dat deel. De steelgitaar op deel 4 is allesbepalend op Apartment #9 en het daarop volgende Together Again (geschreven door Buck Owens). Op Night Life van Willie Nelson glijdt Williams door de nacht. Het klinkt alsof ze met de ellebogen op de bar leunt en langzaam onderuit zakt. Een stem die als schuurpapier over de plakkerige toog gaat. Het door Williams en haar man Tom Overby geschreven Take Time For The Tears past als afsluiter naadloos bij het voorafgaande.