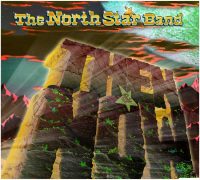 Op het geschiedenislesje in de liner notes van Then & Now (eigen beheer) van The North Star Band valt wel het een en ander af te dingen. Manager Jimmy Patterson was eind jaren 70 al betrokken bij de loopbaan van deze band uit de Amerikaanse staat Maryland en hij stelt dat rond die tijd de horror van disco en de ravage van punk de echte liefhebbers van muziek uit het veld hebben geslagen. Vervolgens roemt hij de countryrockers die de fakkel van authenticiteit brandend hielden. In zijn opmerking over de 'horror van disco' ga ik volledig mee, ook al kun je daar tegenover stellen dat zulks ook slechts een kwestie van smaak is. Patterson zit er helemaal naast met zijn opmerking over de 'ravage van punk'. Die beweging was op dat moment heel nodig en daar hebben we als muziekliefhebbers nog altijd profijt van. Zonder het tijdens de new wave ontwikkelde ethos van zelf je zaakjes regelen en eigen keuzes maken (do it yourself) zou rockmuziek een hopeloos achterhaalde vorm van entertainment zijn.
Dan de loftuitingen aan het adres van de countryrockers (en natuurlijk in het bijzonder The North Star Band) die eind jaren 70 en begin jaren 80 de toorts droegen om de toekomst van rockmuziek levend te houden. Die bewering is grote onzin. De countryrock, toch mijn grote passie, was rond die tijd afgegleden naar een bedenkelijk niveau, met tamelijk slaapverwekkende muziek gemaakt door hippies met veel te veel geld die niet langer droomden over doorwaakte nachten bij kampvuren in de woestijn, maar slap van de drank en drugs over de reling hingen van dobberende jachten.
Die luxe zullen de leden van The North Star Band niet hebben gekend. De band bleef onder de radar. Then & Now is een dubbelaar met opnamen van toen en nu. Toen is 1982. Op de eerste cd (Then) staat het derde album dat de band maakte in 1982, maar dat nooit eerder werd uitgebracht. Best een aardige plaat, en voor liefhebbers van het genre zeker de moeite waard om kennis van te nemen, maar niet een werkstuk van fakkeldragers. Daarvoor bleef de band iets teveel op het midden van de weg. En op On Down The Road zijn ze gewoon onderweg naar huis. De band had vijf leden van wie er vier zongen en liedjes schreven. Dat zorgde voor afwisseling. De samenzang was vloeiend, soms iets te gladjes. Een sirene en mondharmonica brengen op Emergency een liedje dat in het verlengde ligt van het werk van Jerry Reed, waarna een banjo leidend is op Crow Don't Crow. Op Now hebben de vijf groepsleden elkaar weer gevonden en krijgen ze versterking van twee nieuwe namen. Ze maken nog altijd countryrock en beginnen met Brown Shoe Willy in Louisiana-stijl. Whistle Blow klinkt ietwat sentimenteel en dat geldt in nog sterkere mate voor Thinking Of You, met een beetje praatzang in de stijl van Red Sovine op Teddy Bear.