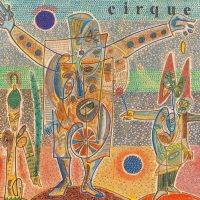 Als een band – in dit geval een Nederlandse – al zo'n twintig jaar onderweg is en dan met hun vierde album, Cirque that is, alles op zijn plek weet te krijgen dan kun je wellicht zeggen dat ze een goed bewaard geheim zijn gebleven. Dat geldt dus, nomen est omen, voor The Secret Combination – en Cirque is in 2021 de parel in de kroon.
The Secret Combination heeft als grote roerganger zanger/componist Jeff Mitchell, die gelauwerde muzikanten om zich heen heeft verzameld, onder wie gitaarlegende Rene van Barneveld/Tres Manos (Urban Dance Squad), toetsenist Robin van Vliet (Slagerij van Kampen), Toni Peroni (Secret Sounds) en de fameuze pedalsteelspeler Johan Jansen (Canyon Drive Band). Dit collectief – voornamelijk een studioband – grijpt met gebruik van slide, pedal steel en elektrische piano terug op de jaren zeventig. Ambachtelijke liedjes, rijkelijk geornamenteerd, bevolken de dubbelelpee Cirque. Er is ruimte in de songs, die vooral ingetogen, en soms iets uitbundiger zijn. Prachtig zijn dan ook Not A Day Goes By, Room No. 5, You Can Do Better, A Trap So Tender en de schitterende met strijkers opgesierde liedjes In the Still of the Night en Rainy Day Parade, waar een werkelijk waar bijzonder fijne jaren-70-vibe uit opstijgt. Anderzijds blijft er in liedjes als You Know and I Know, Everything By Now en Ain't No Crime gedecideerd een frisse Hollandse gitaarbries (Fatal Flowers, The Landlords, Daryll-Ann, Johan, Hallo Venray) waaien.
Dan de uitvoering van Cirque: een dubbelelpee schitterend grafisch vormgegeven door cabaratier/kunstschilder Jeroen van Merwijk (hij overleed in 2021). En dan de twee gekleurde plakken vinyl: de ene uitgevoerd in lilablauw; de andere in transparant geel. Cirque – onder de radar, zeker – verdient niettemin aandacht, want tussen jaren-70-schoonheid en Neerlandse gitaarpop is dit een uiterst fascinerend dubbelalbum.
Cirque. Coast to Coast, 2021. Not A Day Goes By | 3 Minutes | You Know and I Know | In the Still of the Night | Room No. 5 | Everything By Now | You Can Do Better | Mr. Mailman | A Trap So Tender | Considering You | Ain't No Crime | Rainy Day Parade | My Lovin' Right | Real Love