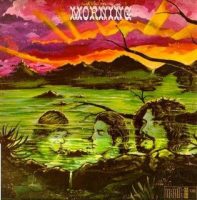 Na het uiteenvallen van de band die Forever Changes heeft voortgebracht, formeert Arthur Lee in augustus 1968 een nieuwe Love. Jay Donnellan is de gitarist in deze Love-versie en is met zijn psychedelische spel zeer prominent aanwezig op Four Sail en Out There. Als Arthur Lee zijn bandleden opnieuw ontslaat trekt Jay Donnellan zich vanuit Los Angeles terug naar de heuvels van de San Fernando Valley, neemt de naam Jay Lewis aan en richt met twee vrienden The Morning And The Evening op. Het drietal – Lewis (gitaar, banjo), Jim Hobson (piano, orgel) en Barry Brown (gitaar, drums) – richt een provisorische studio in met de nogal pretentieuze naam The Recording Studio Inc. en houdt zich als een ware hippiefamilie de hele dag bezig met muziek maken. 
Vrienden komen erop af en omgekeerd evenredig met de verkorting van de bandnaam in het eenvoudige Morning, dijt de band uit tot een collectief van zes personen. Lewis, Hobson en Brown vormen echter de kern van Morning; zijn verantwoordelijk voor teksten, muziek en productie – en de prachtige harmonieuze samenzang. Hoewel het trio hun artistieke vrijheid wil behouden, tekenen ze toch bij grote platenmaatschappij Vault. Op de zelfgetitelde debuut-lp, die in Engeland op Liberty verschijnt, bestaat Morning naast het trio uit Terry Johnson (gitaar), Jim Kehn (zang, gitaar, drums) en Bruce Wallace (bas). Er is bovendien een gastrol voor pedalsteelspeler Al Perkins. Dit collectief heeft met Morning een prachtige, zweverige countryrockplaat gemaakt. 
De band heeft alle typische Westcoast-sounds in zich verenigd: Byrdsy folkrock, Moby Grape-achtige psychedelica en Crosby, Stills & Nash-harmonieën. Zodoende koppelt het organische countryrock aan slaperige, meerstemmige folkrock. Angelena is zo'n folky liedje, met prachtige zang en tinkelend pianospel, evenals Easy Keeper en As It Was. Roll 'Em Down en It'll Take Time zijn klassieke countryrocksongs van het soort waar The Eagles later furore mee zullen maken, terwijl de pychedelische pop van Early Morning en het barokke 'And I'm Gone' voor een nog rijker klankbeeld zorgen. Maar er is nog meer. De plaatkanten sluiten namelijk beide af met adembenemende miniatuurtjes. Kant 2 met het schitterende countryliedje Dirty Roads en kant 1 met het hoogtepunt van dit album; de pure magie van bitterzoete samenzang en het welhaast vloeibare elektrische gitaarspel van Jay Lewis in Sleepy Eyes. 
Morning heeft echter geen enkel succes, net zo min als de fraaie opvolger Struck Like Silver (1972), met als gevolg dat Morning zoals zovele bands en de immer zich herhalende geschiedenis tot de obscuriteit gedoemd lijkt te zijn.
Angelena / Early Morning / Tell Me A Story / Easy Keeper / Roll 'Em Down / Sleepy Eyes / New Day / As It Was / Time / It'll Take Time / And I'm Gone / Dirt