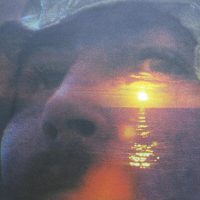 In 1970 heeft David Crosby de wereld aan zijn voeten. Hij maakte in de jaren zestig deel uit van een van de meest invloedrijke bands uit de pophistorie, The Byrds, en voor die band co-componeerde hij talloze uitzonderlijk fraaie songs (Eight Miles High,  Why, Everybody's Been Burned, Lady Friend, Triad). Crosby is bovendien lid van Crosby, Stills, Nash & Young, een supergroep die de wereld versteld heeft doen staan met Déjà Vu. Maar David Crosby verkeert in een diepe persoonlijke crisis omdat zijn vriendin, Christine Gail Hinton, in september '69 is omgekomen bij een auto-ongeluk. Crosby zoekt de eenzaamheid op en vindt vertroosting in de oceaan, waarop hij rondvaart met zijn zeiljacht. Hij woont op dit jacht, afgemeerd in Marin County, in de baai van San Francisco. Bijna elke avond bezoekt hij Wally Heiders studio in downtown Frisco met het doel zijn verdriet te verlichten door de genezende kracht van muziek; want muziek is liefde. In die studio werkt ook de The Grateful Dead aan American Beauty, waarvan de bandleden Crosby welwillend terzijde staan. Maar zij niet alleen, Crosby's producer Stephen Barncard haalt ook de Jefferson Airplane erbij, en nog meer bevriende muzikanten. Het moet een ware loutering voor David Crosby zijn; op deze manier bijgestaan te worden in zijn darkest hour. Hij beschikt over de gitaristen Jerry Garcia (Grateful Dead), Jorma Kaukonen (Jefferson Airplane) en Neil Young; de bassisten Phil Lesh (Grateful Dead) en Jack Cassady (Jefferson Airplane); drummers Michael Shrieve (Santana) en Dead-leden Bill Kreutzman en Mickey Hart; en aan de piano Gregg Rolie (Santana). 
Muziek is liefde is beslist Crosby's credo, getuige de fascinerende opener, geheel in C,S&N-stijl, Music Is Love. En vanaf daar ontstaat er zonder schema of vastomlijnd plan, improviserend op de flow van marihuana en lsd, een vloeiende, als het ware golvende muzikale getijdenstroom die zich uitstrekt over de twee plaatkanten van If I Could Only Remember My Name. Het meest rock-georienteerd zijn Cowboy Movie, dat gedomineerd wordt door de hakkende slaggitaar van Young en uitgesponnen wordt tot Crazy Horse-achtige proporties, en What Are Their Names, een psychedelische rocksong met in het imposante koor het echtpaar Grace Slick en Paul Kantner, Graham Nash, Joni Mitchell en David Freiberg (Quicksilver Messenger Service). Tamalpais High (At About 3) en Song With No Words (Tree With No Leaves) zijn schitterende – de naam zegt het al –  woordeloze, geneuriede mantra's, Traction In The Rain is een akoestisch pareltje met jazzy gitaar en Laura Allans autoharp en Laughing een sublieme Westcoast-suite met een hoofdrol voor Jerry Garcia's pedal steel. Dit waarlijk imposante album sluit af met de magische miniatuurtjes Orleans en I'd Swear That There Was Somebody Here – wat natuurlijk gaat over Crosby's gestorven vriendin – die louter bestaan uit Crosby's op tien sporen opgenomen, gestapelde stemgeluid, en wat klinkt als een cerebraal engelenkoor.  
If I Could Only Remember My Name – opgedragen aan Christine Gail Hinton – is vooraleer een demonstratie van de indrukwekkende vocale acrobatiek van Crosby, maar daarnaast een unieke samenkomst van de fine fleur van de Westcoast hippie-scene. Het betoverende, geniale hippie-meesterwerk  If I Could Only Remember My Name is aldus de belichaming van het creatieve hoogtepunt van de Westcoast-rock, een sleutelgenre in de popmuziek.
Music Is Love / Cowboy Movie / Tamalpais High (At About 3) / Laughing / What Are Their Names / Traction In The Rain / Song With No Words (Tree With No Leaves) / Orleans / I'd Swear There Was Somebody Here