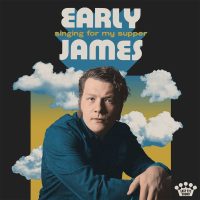 Frederick James Mullis Jr., afkomstig uit Birmingham, Alabama, probeert het in 2017 eerst zelf als Early James and the Latest met een EP-tje met vier songs. Dat gaat niet zomaar werken. Wat wel werkt is dat Frederick 'Early James' Mullis het pad kruist van Dan Auerbach van The Black Keys. Auerbach, zelf verslingerd geraakt aan country, blues en soul – en dus aan countryblues en countrysoul – en in 2009 maker van het superieure Keep It Hid – ontfermt zich over de 26-jarige Early James, sleept hem zijn Easy Eye Sound-studio in Nashville, Tennessee in en maakt met hem Singing for My Supper, dat in 2020 ook op Auerbachs eigen Easy Eye Sound-label verschijnt. 
Singing for My Supper is zo'n beetje van hetzelfde recept als Keep It Hid: countryblues en countrysoul. Daarbij is Early James ook nog eens een heerlijke countrycrooner. De songs zijn gedrenkt in reverb en steeds voorzien van twangy gitaren – die van James en Auerbach dus. De swingende opener Blue Pill Blues gaat er gelijk mee aan de haal. De band is ook voortreffelijk, met Hammond B3, steelgitaar, dobro, sitar en ook (bescheiden) strijkers – en terecht geen ruimte voor storende blazers. Een fantastische sound derhalve, die Early  James in staat stelt te schitteren in meer traag slepende songs als Stockholm Syndrome, Clockwork Town'n het intieme High Horse. Dan is er nog de super countrytwang van It Doesn't Matter Now en heeft het fantastische Gone As A Ghost een heerlijk oorwurm-gitaarloopje. 
Kortom, Singing for My Supper is – met het goedkeuringsstempel van Dan Auerbach – een geweldige countrysoulplaat van een real Southern boy. En o ja: in 2022 is er alweer de opvolger Strange Time To Be Alive. What's not to like about Frederick James Mullis Jr.?
Singing for My Supper. Easy Eye Sound, 2020. Blue Pill Blues | Stockholm Syndrome | Way of the Dinosaur | Clockwork Town | Easter Eggs | It Doesn't Matter Now | High Horse | All Down Hill | Gone As A Ghost | Dishes in the Dark