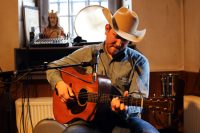 Taverne De Waag in Haarlem kent een lange traditie van optredende artiesten. In de jaren zestig gaven Joan Baez, Pete Seeger en Simon & Garfunkel er acte de présence en ook Boudewijn de Groot zette er zijn eerste stappen op het pad van de live muziek.
Hedenmiddag nemen de Canadezen Zachary Lucky en zijn kompaan Miles Zurawell plaats op de stoeltjes naast de ingang onder het raam en het publiek op de stoeltjes tegenover hen. De aankondiging van het optreden in het Engels door programmeur Sjef Huurdeman wordt gevolgd door een "Dankjewel" van Lucky in bijna accentloos Nederlands.
Lucky groeide op op de uitgestrekte en eenzame prairies van Canada. Veel gebeurde daar niet en elke zondag verplicht naar de kerk. Maar Lucky ging op zondag liever samen met zijn vader naar de dragstrip. Hij verhaalt er over in het toepasselijk getitelde Sunday Morning at the Dragstrip. Lucky heeft een lage, beetje nasale, stem die mooi contrasteert met de jankende dobro van Zurawell.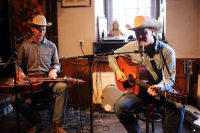 De  mannen dragen een fraaie cowboyhoed en zitten er ontspannen bij. Bij Rex's Blues van Townes van Zandt stampt Lucky stevig met zijn voet mee. Het publiek stampt voorzichtig mee maar luistert vooral aandachtig. En bij de instrumentale Bob Wills-song voelt het alsof het te paard over de Canadese prairies rijdt. Toegang wordt er in Taverne De Waag niet geheven maar na de pauze gaat de hoed rond waarin het publiek zijn bijdrage kan doen. Lucky vertelt hoe het landschap in Canada verandert nu veel land wordt opgekocht door grote bedrijven. In Sell All You Have het verhaal van een hard zwoegende agrariër die het moeizaam opgebouwde familiebedrijf van de hand moet doen. Bij Elk River Blues van Ernie Carpenter is het podium even voor Zurawell, die het nummer zeer geconcentreerd op zijn dobro speelt. Zurawell bekent een echte Fredhead te zijn, een trouwe volger van Fred Eaglesmith. Met Water in the Fuel van deze Canadees sluit Lucky een rustig maar heerlijk onderhoudend optreden af.