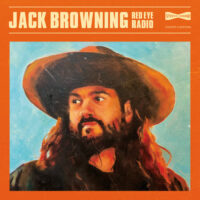 Binnenkort staat Jack Browning op een Nederlands podium, als het voorprogramma van Willi Carlisle in Eindhoven. Dan mag hij zijn kunsten voor het eerst in ons land vertonen. Die mogen er namelijk zijn, potverdrie. Luister maar eens naar het debuutalbum Red Eye Radio (eigen beheer) van deze 25-jarige Engelsman. Dit is alternatieve country zoals we die het liefst horen. Songs met een kop en een staart, melodieus, pakkend, gevarieerd. Het klinkt bovendien zo Amerikaans als wat. Rustige songs zoals het mooie Dog Tired waarop het akoestisch getokkel van Browning wordt neergelegd tegen een kalme pedal steel en mondharmonica. Hetzelfde recept, met hetzelfde fijne resultaat, wordt gebruikt voor You Can't Love Me Anymore. Het album begint ook al zo gedurfd, met de instrumental Electric Desert: prachtig gitaarspel met Calexico-achtige blazers. Die toeteraars komen terug in het daaropvolgende The Family Guns, een schitterende song waarin ook ruimte is voor een bijdrage op fiddle. Mooiste nummer is wellicht Kerosene, het begint ingetogen, maar het opent daarna geheel met een pedal steel en invallende drums en bas. Een stevig zeventiger jaren-geluid, in de trant van Bad Company, hoor je in Ain't Mean Much To Me. Zo rijgt het ene hoogtepunt zich aan het volgende. Red Eye Radio is een aanrader voor iedere lezer van deze site. 
Oh, ook leuk, Jack is niet alleen muzikant, maar hij kan ook aardig schilderen. Zo was hij verantwoordelijk voor het portret van Jake Smith (The White Buffalo) op diens On The Widow's Walk. Hij schilderde natuurlijk ook zijn eigen portret op dit Red Eye Radio.
Het album is verkrijgbaar via de Bandcampsite van Jack Browning.