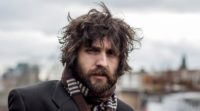 Zowel Once In A Blue Moon als TakeRoot geven nieuwe namen vrij van artiesten die aan de affiche zijn toegevoegd.
Op TakeRoot (De Oosterpoort, Groningen op 3 nov) zullen ook optreden: Jerry Leger (foto), Kurt Vile & the Violators, The Mastersons, Michael McDermott & Heather Horton, Shakey Graves en Honey Harper. In totaal zullen er ongeveer 25 artiesten optreden. Er zal ook gebruik gemaakt worden van een vijfde, kleinere, zaal: The Attic.
Op OIABM (Amsterdamse Bos, 25 aug) zullen I'm With Her (Sara Watkins, Sarah Jarosz en Aoife O'Donovan, foto), The Dawn Brothers en Erin Rae acte de présence geven. Daarmee is de programmering van dit buitenfestival compleet geworden.  Eerder al waren bevestigd: David Crosby, The Drive-by Truckers,  The Mavericks, Sam Outlaw, Hiss Golden Messenger, Courtney Marie Andrews, Tim Knol, Marlon Williams, Lee Baines III & the Glory Fires, Bombino, Dewolff, CC Smugglers en Steve Smyth.