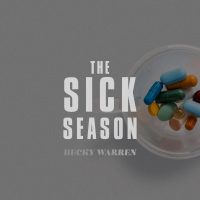 De Amerikaanse Becky Warren heeft haar derde soloplaat de titel The Sick Season (eigen beheer) gegeven. Dan denk je natuurlijk gelijk aan die hele coronatoestand, maar dat is niet wat Warren ermee bedoelt. De reden voor deze titel is veel persoonlijker. Vrijwel direct nadat Warren haar vorige, overigens fantastische, album, Undesirable, had uitgebracht in 2018 raakte ze in een diepe depressie. Warren kampt al sinds haar jeugd met depressieve periodes, maar die konden met medicijnen redelijk onder controle worden gehouden. Deze keer sloegen ze echter onvoldoende aan, waarna Warren zich gedurende 16 maanden terugtrok in haar huis in Nashville. Dat is natuurlijk al rot, maar het moment was ook nog eens heel slecht omdat ze niks aan de promotie van Undesirable kon doen. De nummers van The Sick Season gaan over die depressie. Het is echter geen neerslachtige plaat geworden. Warren (country)rockt er op los, ondanks het feit dat ze begint met een Appointment With The Blues. In Good Luck (You're gonna need it) heeft ze, met wat wrange humor, medelijden met degenen die met haar te maken hebben. Ver in de achtergrond hoor je de ondersteunende vocalen van Ben de la Cour, die ze eigenlijk als grap heel hoog inzong. Maar het paste er wel bij. Andere betrokkenen zijn gitariste Avril Smith (van de band Della Mae), bassist Jeremy Middleton en drumster Megan Jane. Producent  Jordan Brooke Hamlin valt in op allerlei instrumenten, o.a. op accordeon op het prachtige Me And These Jeans. "Me and these jeans are out on the town if the town is my mind / If it ain't then we're back on the couch." De titel Tired Of Sick, een wat langzamere track met mooie achtergrondzang van Emily Saliers, zegt natuurlijk al genoeg. Misschien alles maar vergeten door dronken te worden en wat pillen te nemen (Drunk Tonight)? Dat is ook geen goede beslissing. Schitterend is ook de slepende rocker Birmingham. Zo rijgen de parels zich aan elkaar, waarmee dit album een groot gitaarrockend genoegen wordt.
The Sick Season is dan ook nog beter dan War Surplus en Undesirable en daarmee verdient dit album 5 (vijf!) sterren. Drie keer is scheepsrecht.
The Sick Season is, al dan niet gesigneerd, verkrijgbaar via de bandcampsite van Becky Warren.