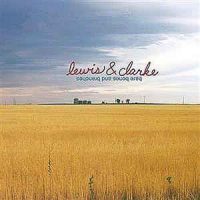 Lou Rogai staat dicht bij de natuur, omarmt een levensfilosofie waarin de mens in zijn natuurlijke leefomgeving centraal staat. De mens in de vrije natuur dus, vandaar dat Rogai zijn muzikale project Lewis & Clarke gedoopt heeft, naar de grote ontdekkingsreizigers die het noordwesten van Amerika in kaart brachten en als eersten de doorsteek naar de Grote Oceaan maakten. Lou Rougai, woonachtig in Delaware Water Gap, Pennsylvania, heeft na jaren van stevig drugsgebruik en het najagen van een carrière uiteindelijk gekozen voor een marginaal bestaan als muzikant in de heuvels van Pennsylvania.
Tussen maart en oktober 2002 neemt Rogai – na onder eigen naam een tweetal singles te hebben uitgebracht – in zijn slaapkamer met een vier- en achtsporenrecorder de liedjes op die zijn debuutplaat zullen gaan vormen. In de studio van de bevriende Dan McKinney in Bethlehem, PA, kan Rogai zijn gang gaan en zijn muzikale ideeën verwezenlijken. Met een tweetal drummers, een lapsteel-speler, McKinney op orgel en Phillip Price op Fender Rhodes neemt Rogai tien prachtige, weemoedige songs op. Maar het lukt Lou Rogai niet zijn project Lewis & Clarke bij een Amerikaans label onder te brengen, er moet nota bene een Belgisch label aan te pas komen om de release van Bare Bones And Branches te realiseren. In het najaar van 2003 verschijnt dit kleinood op de Europese markt, en hoewel marginaal, het doet totaal niets af aan de lome schoonheid van Bare Bones And Branches.
Dit wonderschone album is kunstig in elkaar getimmerd door singer-songwriter Rogai en zijn vrienden, vooral Phillip Price zet met avontuurlijk spel op piano en Fender Rhodes een sfeervol klankbeeld neer. Te midden hiervan is gitarist, bassist en zanger Rogai het stralende middelpunt van deze verzameling warmbloedige en zongedroogde countrysongs. Rogai weet met zijn donkere timbre een van weemoed doortrokken sfeer op te roepen die het pastorale en traditionele Amerika in beeld brengt. Zo ontrafelen de filmische prachtsongs Western Movie Town en Doc Holiday de mythe van het Westen, terwijl het landelijke en aanvankelijk verstilde Waiting On A Friend in een fraai orgel-coda eindigt. De romantische gitaarflarden – af en toe fel aangezet zoals op hoogtepunt No Name Disaster –, de laidback-beat en het toetsenspel voorzien de uiterst fraaie liedjes van een diepere laag. Lou Rogais Belgische debuut straalt warmte, diepere verlangens en passie uit. Een beslist authentieke en meesterlijke americanaplaat; het duurt nog tot 2005 voordat Bare Bones And Branches een Amerikaanse release krijgt.
Western Movie Town / Doc Holiday / Summerville / No Name Disaster / Bloody Coat / Waiting On A Friend / Underwater, Man / 6:15 / Dead And Gone / Sirens