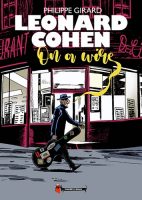 Met een zware klap viel het pakket op de mat. Dat was toch echt te luid voor een pakje met cd's. En ik kon me ook niet herinneren dat ik recent nog een web-aankoop had gedaan. Nieuwsgierig opende ik de stevige envelop. Een boek, nee, een graphic novel; Leonard Cohen, On A Wire van Philippe Girard, uitgegeven door Concerto Books. Ter recensie.
Tot mijn 16de jaar ongeveer was ik een fervent striplezer. Daarna won de honger naar het woord het van de plaatjes met tekstballonnen. Af en toe las ik de afgelopen jaren nog wel eens een stripboek, maar dat was dan toch vooral uit nostalgische overwegingen. Een kenner van het genre 'graphic novels' ben ik dus zeker niet. En eerlijk gezegd: een kenner van het werk van Leonard Cohen ben ik ook niet. Ja, die eerste plaat, Songs Of Leonard Cohen, die kocht ik wel in mijn studietijd. Die deed het zelfs zelf begin jaren '80 nog goed bij romantisch bedoelde etentjes op mijn studentenkamer (met luxe chili con carne; slecht idee  maar dat is weer een heel ander verhaal). Later werk ging meestal langs me heen. Totdat Cohen in 2016 overleed. Toen heb ik wel vaak You Want It Darker, dat ook net was uitgebracht, opgezet. Mooi album.
Allemaal redenen dat u van mij geen doorwrochte recensie van dit boek moet verwachten.
Heb ik ervan genoten? Zeer zeker.
On A Wire begint met de dood van Cohen, na een nachtelijke val in zijn huis. Als hij uit het raam kijkt ziet hij een vogel op een telefoondraad. Hij mijmert terug. En met hem zien we in min of meer chronologische volgorde zijn leven in dit boek voorbij komen. Hoe hij begon als dichter, hoe hij van een Spanjaard beter gitaar leerde spelen. Zijn tijd in Londen en hoe hij terechtkwam op het Griekse eiland Hydra. Het is daar dat hij de Noorse Marianne Ihlen ontmoet (So Long, Marianne). Zijn opnamesessies met Phil Spector, het vreemde feit dat het nummer Hallelujah zo bekend wordt in versies van anderen. Enfin, het is een biografisch boek, dus veel dat Cohen overkwam, komt aan bod. En uiteindelijk kom je ook te weten waarom hij nooit een strik, maar altijd een stropdas droeg. Voor degenen die weinig weten van Cohen (zoals ik) een fijn en inzichtelijk boek, dat aanzet om weer eens in het werk van de Canadese songwriter te duiken. En voor de echte liefhebbers van Cohen een machtig mooi hebbe-boek.
Leonard Cohen, On A Wire, door Philippe Girard, 120 pag. uitgegeven door Concerto Books.