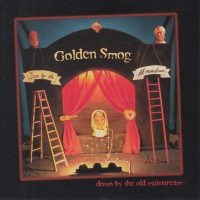 Natuurlijk begint zoiets als een grap. Bevriende muzikanten die een gezelligheidsclubje oprichten. Zo ook muzikanten uit de Minneapolis-scene die in 1987 als reactie op de heersende hardcore-trend de Eagles-coverband The Take It To The Limit Band oprichten. Twee jaren later – vrienden komen en gaan – heet de club The Golden Smog, waarna ze in 1992 de cover-ep (21:55 minuten) On Golden Smog releasen. Dat smaakt naar meer en dus ruimen de bandleden, allen onder een schuilnaam, tijd in om te toeren en een volwaardige debuutplaat op te nemen. 
Op Down By The Old Stream geven acte de présence: zanger/gitarist Michael Macklyn (The Jayhawks' Gary Louris); zanger/gitarist David Spear (Soul Asylums Dan Murphy); zanger/gitarist Jarrett Decatur (Run Westy Runs Kraig Johnson); en bassist Raymond Virginia (The Jayhawks' Marc Perlman). Naast deze oudgedienden schuiven nieuwelingen zanger/gitarist Scot Summit (Wilco's Jeff Tweedy) en drummer Leonardson Saratoga (Honeydogs' Noah Levy) aan. Opgedragen aan The Highwaymen is Down By The Old Stream een lekker lui rootsrockalbum, waarbij het spelplezier en de pretentieloosheid voorop lijkt te staan. Toch zijn er fraaie, sfeervolle countryrocknummers met een sterke  Jayhawks-inslag als V, Ill Fated, Yesterday Cried, Won't Be Coming Home en Nowhere Bound. Ronduit fantastisch zijn de verrassende covers van Bobby Patersons countrysoul-classic She Don't Have To See You en van Ronnie Lane's zalig zwalkende Glad & Sorry.
Aanvankelijk lijkt Golden Smog serious business; de band gaat met Down By The Old Stream zelfs op tournee door Europa, maar de agenda's van Wilco en The Jayhawks blijken een obstakel. Toch verschijnen er nog relatief ambitieuze albums als Weird Tales (1998), Another Fine Day (2006) en het beduidend mindere Blood On The Slacks (2007), en dan is het wel duidelijk dat Golden Smog uiteindelijk niet meer is dan wat het in den beginne al was: een heel goeie grap.   
V / Ill Fated | Pecan Pie | Yesterday Cried | Glad & Sorry | Won't Be Coming Home | He's A Dick | Walk Where We Walked | Nowhere Bound | Friend | She Don't Have To See You | Red Headed Stepchild | Williamton Angel | Radio King