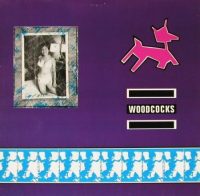 Hadden Naked Prey en Sidewinders eind jaren tachtig al de reputatie van ultieme desertrockers – wat wil je: Tucson, Arizona – Woodcocks doen dit nog even dunnetjes over. De gitaristen uit beide bands, Dave K. Seger en Rich Hopkins, slaan de handen ineen en gaan in 1989 een verbond aan: Woodcocks. Seger lijkt dan klaar met Naked Prey – het laatste album Kill the Messenger is dan net opgenomen – en Hopkins zit met Sidewinders tussenin twee platen: Witchdoctors (1988) en Auntie Ramos' Pool Hall (1990). Klaarblijkelijk is er ruimte voor een Woodcocks-plaat. Seger en Hopkins laten zich in de Sound Factory-studio, in Tucson uiteraard, vergezellen door de bassisten Mark Perrodin (Sidewinders) en Scott Garber (Giant Sand, Sidewinders) en de drummers Tom Larkins (Yard Trauma, Naked Prey) en Bruce Halper (Sidewinders). Een mooi zootje.
Woodcocks wordt wel voor Hopkins' eigen San Jacinto-label opgenomen, maar wordt in licentie gegeven aan het Duitse Still Sane Records, alwaar de schroeiende aardeplaat in 1990 wordt uitgebracht. Er zijn bluesy gitaarrocksongs maar het zijn echt de slow songs die Woodcocks' debuut hoog optillen: This Old Man, Wagoneer, Keep Me Sane en Young Country, stuk voor stuk voorzien van hemelbestormende, sidderende, fluitende en kreunende gitaarsolo's. 
Ja, desertrock, in 1992 met The Carp Pond nog eens overgedaan in verwaterde vorm, in optima forma. Een zinderend debuut.
Worth | Raul | This Old Man | Lester's Lament | Wagoneer | Everclear | Instrumental | Keep Me Sane | Tisons | Young Country