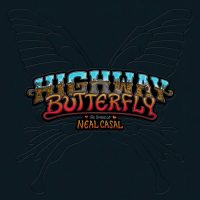 Met een box van drie cd's (of vijf lp's) eren collega's het werk van de in 2019 op 50-jarige leeftijd overleden Neal Casal, de singer-songwriter die vooral faam vergaarde als gitarist in The Cardinals, de begeleidingsband van Ryan Adams.
Voor de Amerikaan Neal Casal was rockmuziek een ware obsessie. Op 12-jarige leeftijd kreeg hij niet alleen een gitaar, maar ook een exemplaar van de dubbelelpee Exile On Main Street van The Rolling Stones. Terwijl leeftijdsgenoten bezig waren met naar welke middelbare school ze zouden gaan, stond voor Casal al vast dat hij het leven van een rondreizende rockartiest zou leiden. Zo gedacht, zo gedaan.
Zijn loopbaan begon in Blackfoot, een hardrockband met indiaanse wortels, die aan het begin van de jaren 90 echter al even over zijn hoogtepunt heen was. In 1995 verscheen een meesterlijke debuutplaat onder eigen naam. De titel: Fade Away Diamond Time. Een wegkwijnende glorietijd, Casal liet het zover niet komen. Op 26 augustus 2019 pleegde hij zelfmoord, nog maar 50 jaar oud.
Die glorietijd, had hij die werkelijk beleefd? Bij het grote publiek is zijn naam tamelijk onbekend gebleven. Maar onder collega's verwierf hij een enorm aanzien. Dat bleek wel nadat zijn manager Gary Waldman na zijn dood een benefietconcert organiseerde, waaruit ook het initiatief voor de box Highway Butterfly: The Songs Of Neal Casal (Royal Potato Family/Bertus) voortkwam. Iedereen wilde namelijk wel meedoen aan het eerbetoon.
Casal stond bekend om zijn zachtmoedige karakter. Hij vond het niet nodig om op de voorgrond te treden, maar droeg als musicus altijd wel veel meer aan dan alleen zijn gitaarspel. En zijn adviezen werden in dankbaarheid aanvaard. Ryan Adams huurde hem in als gitarist in zijn band. Toch ontbreekt Adams op deze box. Dat zal alles te maken hebben met de aanklachten die in 2019 tegen hem zijn ingediend wegens seksuele intimidatie. 
Geen Adams dus, maar ook zonder hem is de lijst van artiesten op Highway Butterfly imponerend. Steve Earle (met het titelnummer), Norah Jones, Marcus King, Hiss Golden Messenger, Jonathan Wilson, J Mascis, Vetiver, Aaron Lee Tasjan, The Allman Betts Band, Billy Strings … ze spelen allemaal de liedjes van Casal. Het zijn er 41 in totaal. Best bijzonder, want daarvoor lukte het manager Waldman nauwelijks om zijn nummers aan de man te brengen.
Casal, die als fotograaf zijn leven in de rock-'n-roll fanatiek documenteerde, speelde een hele platenkast vol. Veertien albums verschenen er van hem. Daarnaast was hij bandlid van Chris Robinson Brotherhood, Hazy Malaze, Beachwood Sparks, Gospelbeach, Circles Around The Sun, Skiffle Players en Hard Working Americans. Die laatste bandnaam paste dus wel bij hem, want ook deze opsomming is nog lang niet compleet. Als gast speelde hij ook nog op talloze platen mee.
Highway Butterfly is een prachtig document. Tot de hoogtepunten kunnen vooral toch de liedjes van dat debuut Fade Away Diamond Time worden gerekend. Susan Tedeschi & Derek Trucks die Day In The Sun doen, Maybe California door Shooter Jennings, Feel No Pain door Leslie Mendelson en vooral Free To Go door Warren Haynes. Liedjes over tijd en vergankelijkheid, vanaf het begin waren dat de grote thema's voor Casal.