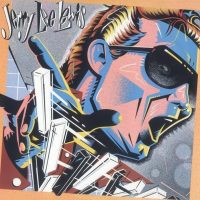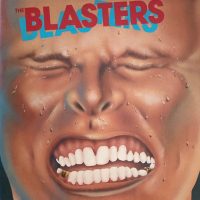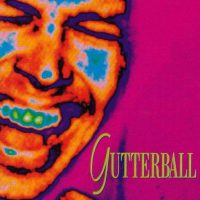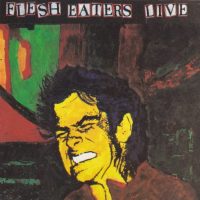 Met verbijstering zag ik heel veel mensen vertrekken uit het Stadspark in Groningen. Wisten al die mensen echt niet wie The Blasters waren? Was Studio Sport belangrijker dan de beste band van de wereld? Blijkbaar. Wat een domheid! We schrijven 1985. The Blasters sluiten deze zondag de derde aflevering van Sterren In Het Park af. Dat al die bezoekers een verkeerde beslissing hebben genomen kunnen ze de volgende dag in de krant lezen. 'De Amerikaanse Blasters maken trampoline van park', staat er boven het verslag van Max Palfenier in Nieuwsblad van het Noorden.
Met de linkeronderarm in het gips stond ik in het Stadspark te springen. Het resultaat van een ongelukje op de racefiets, dat gips. De knokkel boven de ringvinger aan die hand is sindsdien verdwenen. Pijn, het hoort niet alleen bij wielrennen, maar ook bij rock-'n-roll. Kijk maar eens naar de koppen van die kerels op deze hoezen. De ogen dicht. De tanden bloot. Een pijnlijke grimas. Druppels zweet. Wat een schitterende tekening van Phil Alvin staat er op de titelloze debuutplaat van The Blasters.
Helaas. Bij mij staat in de kast een exemplaar met een andere hoes. Het oorspronkelijk door Slash uitgebrachte album verscheen in Engeland op F-Beat met op de cover foto's van alle bandleden. En die lag hier in de platenzaken. Prima label overigens, dat F-Beat, maar hier gingen ze dus even de fout in. Wel een geweldige plaat! En met het nummer American Music bevat het een statement van jewelste in die door synthesizers en modemannetjes beheerste jaren 80.
'Well, a US soldier boy on leave in West-Berlin / No music there that rocks, just a thousand violins / They wanna hear some American music / American music / They wanna hear that sound right from the USA … We got the Louisiana boogie and the delta blues / We got country, swing and rockabilly, too / We got jazz, country-western and Chicago blues / It's the greatest music that you ever knew / It's American music / It's American music / It's American music / It's that crazy sound right from the USA.'
Van The Blasters hadden de Groningers nog nooit gehoord. Dat hadden de Amerikanen wel door. 'Kennen jullie dat liedje Marie Marie? Shakin' Stevens had er een hit mee, maar wij hebben het geschreven', klonk het in het Stadspark. En daar gingen ze weer los.
De enige die de ogen niet dicht heeft op de hoes is Jerry Lee Lewis. Hij hoeft niet meer zo diep te gaan. Hij had al zoveel ervaring opgedaan in 1979, dat was helemaal niet meer nodig. En met zo'n zonnebril op de neus ziet niemand dat. Maar ondertussen had hij wel weer een heerlijke plaat afgeleverd. Na 15 jaar bij Mercury Records stapte hij over naar Elektra. Hij had genoeg van de met violen overladen producties van Mercury. Bij Elektra vond hij zichzelf opnieuw uit als wilde rocker. De toetsen vlogen in het rond alsof hij nog als twintiger het ivoor mishandelde in dienst van Sun Records. Ja, the Killer kon het nog. Het ultieme bewijs is Rockin' My Life Away, het eerste nummer van kant 2.
Steve Wynn staat op de voorkant van het titelloze album van Gutterball, de gelegenheidsformatie waarin hij Stephen MCarthy (Long Ryders), Bob Rupe (Silos) en Bryan Harvey en Johnny Hott (beiden House Of Freaks) aan zijn zijde had. In 1993 gaf de band een zinderend concert in Vera, Groningen. 'Voor de podia is Gutterball zondermeer een aanwinst', schreef Siebrand Vos in Nieuwsblad van het Noorden. Ik was aanwezig. Steve Wynn was dankzij zijn contact met superfan Jaap Bos vaker in de buurt. Zo zag ik hem ook in Sappemeer en Engelbert optreden.
Punkdichter Chris D. tergt met Flesh Eaters de trommelvliezen. Zijn verwrongen gezicht siert de cover van Live, pijn en genot geserveerd door (op kant 1) de Roots Rock Voodoo Blues Guys Dave Alvin, Bill Bateman, John Doe, Steve Berlin, D.J. Bonebrake en Chris D. zelf natuurlijk. En ja, met Alvin en Bateman zijn we terug bij The Blasters. Op kant 2 staat D. op het podium met de Speedmetal Esoterrorica Dudes Don Kirk, Robyn Jameson en Chris Wahl. Opgenomen in Hoboken, Milwaukee en Los Angeles. Rauwe energie. Alsof het einde der tijden is aangebroken. In de woorden van Chris D.: A Minute To Pray, A Second To Die.
Jerry Lee Lewis – Jerry Lee Lewis (1979)
The Blasters – The Blasters (1981)
Gutterball – Gutterball (1993)
Flesh Eaters – Live (1988)