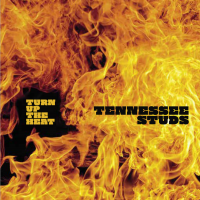 De wereld staat in brand. Turn Up The Heat, zo heet het nieuwe album van het Amsterdamse gezelschap Tennessee Studs. Het titelnummer dat begint als de soundtrack van een spannende western* maar al gauw overgaat in een soort Appallachian countryfolknummer, ziet meer op de ecologische uitdaging voor de aarde maar zou evengoed kunnen gaan over de manier waarop we de beschaving bedreigen met oorlog en terreur. Een mooie binnenkomer. De Studs bestaan uit een Zweed, een Amerikaan en drie Nederlanders. Na hun vorige album, See You Around (2016), heeft er één personele wijziging plaatsgevonden: banjospeler Pieter Loman heeft plaatsgemaakt voor violist Joram Peeters. Dat heeft ook logischerwijze tot een iets ander geluid geleid. Oorspronkelijk zou het vijfde album al in 2020 uitgebracht worden, maar om de welbekende reden kregen de Studs iets meer tijd voor het opnemen van deze plaat. Het is een knaller geworden. Vanaf de eerste noot genietbaar. Afwisselend, boeiend, fantastisch. Pure country, bluegrass, folk en zelfs een stukje rap (een beetje zoals Luka Bloom dat ooit deed met LL Cool J's I Need Love). Kortom: americana in optima forma. De dobro van Jeroen Schmohl, de pedal steel en telecaster van Roland van Beveren, de mandoline van Jeff Cardey en de fiddle van eerdergenoemde Peeters, het pakt allemaal even smaakvol uit. En daaronder de staande bas van Henrik Holm. Het melancholische Last Days krijgt een prachtige accordeon als toef op de taart. Daarbij zingen alle Studs: soms zoet, soms rauw. En dan is het ook nog eens een prima gemixt en gemasterd door ex-Raggende Man Thijs de Melker. Tel daarbij op dat het album ook nog eens mooi is vormgegeven: een hardkartonnen boekje met foto's met een korte toelichting op de songs.  Een absolute aanrader dus.
Op zondagmiddag 13 maart vindt in Paradiso de albumpresentatie plaats.
*Een ietwat andere versie van Turn Up The Heat tref je hieronder en op Spotify aan.