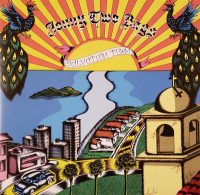 Jonny Wickersham komt oorspronkelijk uit de Californische punkscene van begin jaren negentig. In 2000 sloot de zanger-gitarist zich aan bij de veteranen van Social Distortion, die met hun energieke punkabilly in 1991 met Somewhere Between Heaven and Hell wereldwijd furore maakten. Uit dát hout is Wickersham gesneden, die inmiddels onder de geuzennaam Jonny Two Bags door het leven gaat.
In 2012, Two Bags is dan alweer 45, verschijnt de fraaie debuut-single Hope Dies Hard, pas twee jaar later gevolgd door de debuut-lp Salvation Town. Dan blijkt ook in welke kringen Jonny Two Bags zich bevindt, want er speelt aan keur aan excellente muzikanten mee op deze schitterende debuutplaat. Wellicht is hiervoor de weg gebaand door zijn buddy en Social Distortion-drummer David Hidalgo Jr. – jawel: een wolvenzoon –, aangezien we op Salvation Town inderdaad op gitaar en bajo sexto David Hidalgo aantreffen, maar ook Pete Thomas en Davey Faragher, de ritmesectie van Elvis Costello's Imposters, en nog veel meer.
De sound en de songs zijn voortreffelijk, want Salvation Town luistert als een combinatie van enthousiaste pubrock en heerlijke rootsrock-swagger. Aldus klinkt Jonny Two Bags in sterke liedjes als One Foot in the Gutter, Then You Stand Alone en Forlorn Walls als Elvis Costello en Dave Edmunds in hun jaren-zeventig-tijd en ook wel als Dan Baird op zijn American Recordings-platen. Dat werk. Hope Dies Hard – met het karakteristieke slidegitaar-spel van David Lindley – rockt overigens nog net even plezieriger. In de tex-mexstomper Avenues klinkt de accordeon van de fameuze Joel Guzman uit de band van Joe Ely, evenals in de heerlijke ballad Clay Wheels. En ook helden als Jackson Browne, pedalsteel-virtuoos Greg Leisz, saxofonist Steve Berlin en pianist Chris Joyner (ooit van The Freewheelers) doen mee, zoals op Alone Tonight, dat zich gedecideerd richting countrysoul begeeft en op de heerlijk zwalkende afsluiter The Way It Goes. Salvation Town refereert aan Los Angeles als metaforische reddingsboei en als dat slaat op al die hulpvaardige muzikale LA-heroes dan is de albumtitel goed getroffen. Maar ook op een ander niveau is Salvation Town, in een fraai uitgevoerde klaphoes, een meeslepende en superieure rootsrockplaat die voor wie het wil het verschil kan maken, al wordt Jonny Two Bags' debuut in 2014 nagenoeg door iedereen jammerlijk over het hoofd gezien.
Salvation Town. Isotone Records, 2014. One Foot in the Gutter | Avenues | Then You Stand Alone | Clay Wheels | Forlorn Walls | Wayward Cain | Ghosts | Hope Dies Hard | Alone Tonight | The Way It Goes