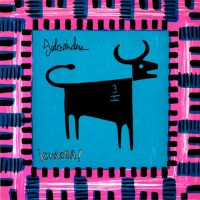 Een droog, woestijnachtig klimaat, maar in de jaren tachtig een vruchtbare bodem voor rockmuziek: Tucson, Arizona. Green On Red, Al Perry and the Cattle, Giant Sand, Naked Prey en ook Sidewinders, ze komen er allemaal vandaan. In 1986 richten zanger Dave Slutes en gitarist Rich Hopkins Sidewinders op. Drummer Andrea Curtis sluit zich bij hen aan en als bassist wordt Scott Barber aanvankelijk geleend van Giant Sand. Sidewinders – vernoemd naar de zijwaartse voortbeweging van de ratelslang – is een echte Tucson-band: desertrock met aardeverschroeiend gitaarwerk. Sidewinders is bovendien zelfvoorzienend, want produceren hun debuutalbum zelf en brengen dat uit op Hopkins' eigen San Jacinto Records.
¡Cuacha! komt in 1987 uit en klinkt net even opgeruimder dan Giant Sand of Naked Prey, dit vanwege Slutes' jengelende, opzwepende slaggitaar, waardoor Sidewinders meer klinkt als Dream Syndicate's The Days of Wine and Roses (1982) of R.E.M.'s Murmur (1983). Daaroverheen legt Hopkins echter wel zijn kronkelende acidrock-gitaarsolo's, die dan ook doen denken aan Moby Grape en Quicksilver Messenger Service. U begrijpt: dit levert een geweldige sound op. Liedjes zijn het ook: I Can Wait, Bell Jar, I Guess It Doesn't Matter, I'll Go Home en het door Andrea Curtis gezongen Inside – dat klinkt als een soort psychedelische Bangles, afgetopt met een wegwiekende gitaarsolo. Bij wijze van toegift gaan de Sidewinders nog eens hevig tekeer in What She Said: ruim acht minuten slepende gitaarrock met als climax een loeiende gitaarsolo. 
Sidewinders komt vervolgens onder contract bij een major label, wat de airplay en actieradius royaal vergroot. Met de albums Witchdoctors (1988) en Auntie Ramos' Pool Hall (1990) verstevigen ze hun reputatie en zit er een doorbraak aan te komen, ware het niet dat ze in een bikkelharde juridische strijd verwikkeld raken om de bandnaam – en die ze verliezen. Twee jaar staan Sidewinders op non-actief: alles weg. De wonden gelikt gaan Hopkins en Slutes in 1993 verder als Sand Rubies. Als ¡Cuacha! in 2001 opnieuw op cd wordt uitgebracht (met twee extra nummers) is het dan ook onder de naam Sand Rubies. De vinyl-rerelease in 2019 van ¡Cuacha! levert in ieder geval wel een mooie omschrijving ervan op: '1987 sleeper rural rock classic'.
¡Cuacha!. San Jacinto Records, 1987. I Can Wait | Clock Strikes Twelve | Bell Jar | I Guess It Doesn't Matter | More Than That | Blood On Our Hands | Magazine | Inside | I'll Go Home | Hole in My Head | What She Said
And now for some completely different: Power in the darkness – Britse postpunk en new wave. Mijn nieuwe boek nu in de winkels.