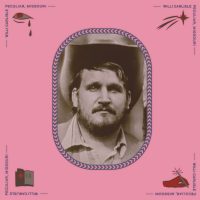 Een averechts effect van activisme is dat tegenstellingen alleen maar groter worden. Maar niet bij folkzanger Willi Carlisle. Liefde voor elkaar. Liefde voor het leven. Daar draait het om in de protestliedjes van singer-songwriter Carlisle. En hij neemt het vooral op voor outsiders. Misschien is hij dat zelf ook wel. Een biseksueel met een banjo, ga maar na. Peculiar, Missouri (Free Dirt Records) is een geweldig album van een buitengewoon artiest. Hij was van plan om dichter te worden, maar die ambitie liet hij snel varen. Hij won een kleine prijs met een gedicht en kwam daardoor in New York in contact met succesvolle collega's. En winnaars van de Pulitzerprijs. Hij ontdekte dat ze allemaal welgestelde ouders hadden. En dat ze hem niet moesten. Gewoon omdat hij uit het Ozarkgebergte kwam. Ze noemden hem een hillbilly. Maakten denigrerende grappen.
Leuk, zulke progressieve lui, maar niet heus. Hij schreef zijn teksten voortaan om ze te zingen. Zoals Pete Seeger het had gedaan. Of Woody Guthrie. En Utah Phillips, zijn voorbeeld. Hij werd een folkzanger. Eentje die het kapitalisme op de hak neemt. Op het bijna zeven minuten lange titelnummer praatzingt hij over een paniekaanval in een gangpad van een Walmart. Zoveel keus. Zoveel overbodige rotzooi. Een geweldig verhaal en een thema dat ook al eens is opgepakt door The Clash met Lost In The Supermarket. Goed gezelschap!
Carlisle was een punker voordat hij ontdekte dat hij in folk dezelfde boodschap kwijt kon. We kunnen hem trouwens net zo goed een countryzanger noemen. Want Vanlife is een briljant liedje in de stijl van een jonge Johnny Cash. Of Commander Cody. Een truckersong met steelgitaar over een bestelbus. Carlisle (zang, gitaar, banjo, viool, knoppenaccordeon, mondharmonica) heeft het over Amerikanen die moeten leven in zo'n auto omdat ze geen geld hebben voor een huis. Met een welverdiende sneer aan het adres van Elon Musk.
De tex-mex van Este Mundo gaat over de handel in waterrechten en op The Down And Back zingt hij over ongelijkheid. Arbeiders die krom liggen en ondernemers die uit winstbejag hele landschappen vernielen. Commentaar van Carlisle: 'Ya can't get to heaven in a big black Benz'. Toch voert boosheid nergens de boventoon. Opener Your Heart's A Big Tent maakt direct duidelijk hoe hij in het leven staat. 'How the heart's a big tent / You gotta let everybody in / Doesn't matter who they are / If they do right or where they've been / Everybody gets in.' Op Life In The Fence zingt hij over een liefdesaffaire met een man in Memphis. En hoe hij worstelt met zijn biseksualiteit, omdat de vrouw in het liedje van niets weet. Carlisle was van plan om een oldtime-festival te organiseren voor de lhbti-gemeenschap, maar de coronapandemie verhinderde dat. Het idee dat country alleen maar conservatief is kan dus wel bij het oud vuil. 
Peculiar, Missouri is volstrekt uniek. Opgenomen in Louisiana met producer Joel Savoy, doorgaans actief in cajun. Een onopgesmukt geluid, volop afwisseling in knap geschreven liedjes die ergens over gaan en ook nog eens zeer geestig zijn.