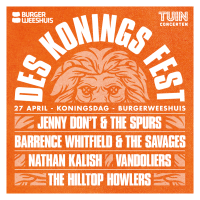 Er valt weer heel wat te vieren op Koningsdag. Bij voorbeeld dat men op die dag (27 april) in het Burgerweeshuis in Deventer een gratis festivalletje, Des Konings Fest, organiseert. In de binnentuin zullen optreden: Vandoliers (ga die zien), Jenny Don't & the Spurs, Barrence Whitfield & the Savages (in een ver verleden ooit eens gezien: nieuwe schoenen kapot gedanst), Nathan Kalish en de Hilltop Howlers.
Twee dagen later, 29 april, is het bal in Groningen waar in De Oosterpoort de Rhythm & Blues Night plaatsvindt. Optredende artiesten: Barrence Whitfield & the Savages, Theo Lawrence, Kenny Wayne Shepard, Ana Popovic, Chuck Prophet & the Mission Express, Lee Bains & the Glory Fires, David Eugene Edwards, Jason Ringenberg & his Barnstormers, Leif de Leeuw Band, Nick Waterhouse, Popa Chubby, Martin Harley, Jim Jones All Stars, Connor Selby, Kitty Daisy & Lewis, Double Cream en Mell & Vintage Future.Tickets kosten €48,50.
Op 24, 25 en 26 juni wordt in Rotterdam weer het Bluegrass Festival georganiseerd. Niet meer op het Pijnackerplein en niet meer gratis, maar nu op het Noordplein en de kosten zijn €25,- voor het gehele festival (er zijn ook dagkaarten voor €10,- te koop). Belangrijkste optredende artiesten zijn: Douwe Bob met de Blue Grass Boogiemen, Bertolf (die zijn nieuwe bluegrassplaat komt presenteren), Theo Lawrence, Abe Partridge, Scott Biram, Baptiste W. Harmon, Bella White, The Reverend Peyton's Big Damn Band, Della Mae, Herman Brock jr. en vele vele anderen.
Dat het Bluegrass festival niet meer gratis is past in een ontwikkeling. Na de coronatijd zijn om weer andere redenene de prijzen gestegen, ook voor optredende artiesten en in het bijzonder voor artiesten uit andere werelddelen. Die slaan Europa misschien eens een jaartje over. een en ander is goed beschreven in het mooie interview met Walter Hoeijmakers, de grote man achter het Roadburn-festival in Tilburg. Een ander genre (metal), maar de principes en oplossingen zijn hetzelfde. Ga je voor minder bekende artiesten op je festival of verhoog je de prijzen, of een combinatie van beide?
Gaat dat ook gelden voor de grote Nederlandse rootsfestivals?
TakeRoot heeft inmiddels een eerste set namen van optredende artiesten bekendgemaakt voor de 25ste editie die op 4 november naar De Oosterpoort komen: Josh Ritter, The Old 97's, Fantastic Cat, Kassi Valazza, Willie Carlisle, Thee Sacred Souls, L.A. Edwards, Jerry Leger & The Situation, en The Local Honeys. Kaarten a €57,50 zijn inmiddels verkrijgbaar via de site van TakeRoot