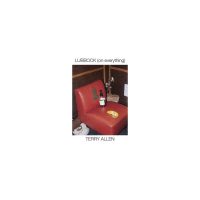 Conceptuele kunst en countrymuziek vormen een onwaarschijnlijke combinatie op
Juarez
en
Lubbock (On Everything)
 (Paradise of Bachelors/Konkurrent) van Terry Allen. De albums uit 1975 en 1979 worden in luxe uitvoeringen op zowel lp als cd opnieuw uitgebracht. De liedjes voor
Lubbock (On Everything)
schreef Allen in Californië. Lubbock bleef toch aan hem trekken, nadat hij uit de conservatieve stad in West Texas was vertrokken om het in Los Angeles te maken als kunstenaar. Op de dubbelaar trekt een bonte stoet aan kleurrijke karakters voorbij.Een familieman zakt in een honky tonk elke zaterdagavond door met zijn vriendin, omdat hij dan toch ruzie heeft met zijn vrouw (
High Plains Jamboree
). De honkbalheld van de stad eindigt in de cel (
The Great Joe Bob – A Regional Tragedy
). Aan speed verslaafde automobilisten luisteren naar Wolfman Jack terwijl ze met 100 mijl per uur door het landschap scheuren (
The Wolfman Of Del Rio
). Een vrouw met rode nagels in een zwarte negligé, blauwe mascara en een nieuwe pruik maakt zich klaar om de stad in te gaan: 'She's out to win / But she's destined to lose / Too much rouge / Too much booze' (
Lubbock Woman
). En dan zijn er nog de liedjes over kunst.
The Collector (And The Art Mob)
gaat over een eenzame verzamelaar. In
Truckload Of Art
laden kunstenaars uit New York een vrachtwagen vol topstukken. Ze voelen zich ver verheven boven hun collega's in Los Angeles en zullen wel eens laten zien wat ze te bieden hebben. Helaas, de chauffeur is high en God straft de hoogmoed genadeloos af. De truck raakt van de weg en de hele lading ligt verspreid in de bosjes.
Op het tamelijk kale Juarez werd Allen slechts sporadisch bijgestaan door enkele gitaristen, op Lubbock (On Everything) trad The Panhandle Mystery Band aan. Allen reed voor de opnamen naar Lubbock en daar formeerde steelgitarist Lloyd Maines de band, die grotendeels bestond uit musici die doorgaans speelden bij Joe Ely. Met Flatland Farmer is voor eens en altijd duidelijk geworden dat de boerenkinkels meer te bieden hebben dan al die zogenaamde sterren in Nashville. 'He don't make no money… Awww / But I'll tell… that boy can / Out sing / Out pick / Out play / Out drink / Out pray… and out lay / Any of them Nashville stars'. De betreurde gitarist Jesse Taylor voegt de daad bij het woord met een fenomenale solo.