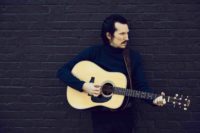 Die term voorjaarsfestivals klopt niet helemaal want het eerste festival dat we hier gaan noemen vindt al op 3 februari, dus nog in de winter plaats. Dat is Americana Rising in De Vorstin In Hilversum. Heel veel is nog niet bekend, maar wel dat de Amerikaanse band The Artisanals er zal optreden.
Het Heartland-festival in de Metropool in Hengelo wordt dit jaar op zaterdag 13 april georganiseerd. Van de partij zijn: Eliah Ocean, Zephaniah O'Hora (foto), Nicole Atkins, The Brother Brothers, Hayseed Dixie, Nona en Dan Owen. Early cow (!)-tickets gaan voor 29 euro over de toonbank.
De volgende dag, op 14 april organiseren ze bij Grenswerk in Venlo weer het Down By the River-festival. De eerste 5 namen zijn veelbelovend: Cordovas, Matthew Logan Vasquez, The Brother Brothers, Nicole Atkins en Zephania O'Hora! Early fish (!)-kaarten zijn nu al te koop voor 20 euro.
In het Brabantse Ospeldijk (Buitenplaats De Pelen) organiseert men op 30 mei voor de derde maal het Mijl Op Zeven-festival. Met dit jaar Jeffrey Halford & the Healers, Nick Dittmeier & the Sawdusters, Tiny Leg Tim en The Yawpers. Andere namen volgen nog.