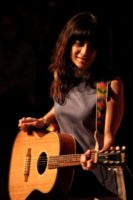 De naweeën van verkeerd voedsel, en vervolgens gaandeweg enig technisch gedoe ondervinden, het bleek uiteindelijk niet voldoende om Nicole Atkins uit haar evenwicht te brengen. De uit Neptune, New Jersey, afkomstige Atkins opende overigens unplugged, met Neptune City. En dat was zeker een mooie, intense opmaat voor een optreden dat ondanks de probleempjes zeer de moeite waard was.
Dit nadat overigens de tegenwoordig in Muscle Shoals, Al. residerende Caleb Elliott de goed gevulde Kantine van Walhalla (Champions League-avond, immers….) zijn debuutalbum Forever To Fademocht voorstellen. En dat ging Elliott prima af, hoewel de laatste twee songs -songs waarin hij ondersteuning verkreeg van Davey Horne (gitaar) én daarna ook nog van de ritmesectie van Atkins' band (Mikey Sorbello; drums/Tom Sainsbury; bass)- duidelijk maakte dat zijn muziek in die vollere setting nog beter beklijfde dan alleen met gitaar.
Vervolgens was het, na een korte break, aan Atkins. Eerst unplugged dus, en vervolgens met band. Een band waarin Elliott met zijn cello (en spaarzame backing vocals) ook een fijne, subtiele rol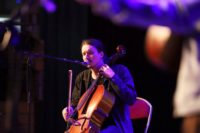 speelde. Met songs van vooral Atkins laatste album Goodnight Rhonda Lee, zoals; Darkness Falls So Quiet;  het samen met Chris Isaak gepende A Little Crazy; Brokedown Luck en Listen Up. En vrijwel bij elke song had deze pittige dame wel een passende introductie; van vilein tot humorvol, van kritisch tot teksten met de nodige zelfspot. Bij Sleepwalking verwees Atkins naar een artikel in Rolling Stone, vooral naar hun uitleg van het woordje haunted in de zinssnede: 'so much time has gone by but i'm still haunted', wat door Rolling Stone ten onrechte werd verstaan (dialect!) als horny. Later refereerde ze ook aan het drankgebruik van een goede vriend van haar, juist ja, aan het consumptief gedrag van Atkins zelf. De song A Night Of Serious Drinking volgde daarop logischerwijs. En toen het geluid op de bühne blijkbaar nog niet je van het was, besloot ze de boel maar te redden (dit voor het schip definitief zou zinken…) door de set maar min of meer zonder versterking voor te zetten. Ook dat ging haar én haar uitstekende begeleiders goed af.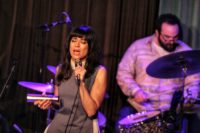 Atkins heeft naast prima songs dan ook nog eens een stem die moeiteloos tussen lieflijk en krachtig laveert; met het volume en bereik is niks mis en op die manier wist zij met speels gemak het hoofd te bieden aan het ongemak. Zij keerde overigens zo tegen het einde van het optreden weer terug naar een versterkt geluid. Terloops wist zij ook nog een bezoeker op geeuwen te betrappen om tot slot af te sluiten met een song van haar vader; haar spirituele vader, welteverstaan: Roy Orbison. Een mooi, klein gehouden versie van Orbison's Cryin' was dan ook de epiloog van een mooi optreden.
Waar: Kantine Walhalla, Rotterdam
Wanneer: dinsdag 16 april 2019
Foto's: Peter de Jong