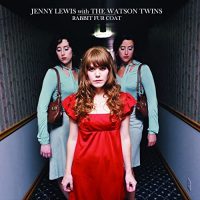 Succes heeft Jenny Lewis genoeg, maar zij wil iets voor zichzelf – iets waar zij en zij alleen verantwoordelijk voor is: een solocarrière, of zoiets. Jenny Lewis is in haar jeugd een Hollywood-filmsterretje, speelt in verscheidene speelfilms en tv-series. Maar eenmaal volwassen richt ze in 1998 met mede-acteur Blake Sennett Rilo Kiley op. De Californische indie-rockband is beslist succesvol, maar de sleet komt er na een aantal jaren wel op. Sennett heeft met The Elected zijn eigen hobbybandje, en ook Lewis kiest haar eigen pad en het is Conor Oberst die haar daarbij helpt. Zijn band, Bright Eyes, en haar band delen hetzelfde platenlabel, maar Oberst wil een eigen platenlabel: Team Love. Op dat label zal Jenny Lewis' solo-album verschijnen. 
Dat solo-album, getiteld Rabbit Fur Coat, is een bitterzoete altcountrypopplaat. Ten eerste gaat Lewis een verbond aan met de twee koppen grotere, eeneiige tweeling Chandra en Leigh Watson, die net daarvoor onder de naam The Watson Twins een soort van countrygospelplaat hebben uitgebracht. Ten tweede: in de studio's – in de Californische San Fernando Valley met producer Mike Moggis en in Portland, Oregon, met M. Ward –  kan Lewis verder rekenen op de hulp van de gitarist en bassist van Maroon 5, Rilo Kileys bassist, Conor Oberst en Death Cab For Cutie's Ben Gibbard. Maar ondanks die stevige bezetting houdt Jenny Lewis het klein zoals in het verstilde luisterliedje Happy, in het broeierige, Mazzy Star-achtige Melt Your Heart en in de verraderlijk lichtvoetige murderballad Rabbit Fur Coat. En verder hebben Lewis en de Watson-tweeling vooral heel veel lol, getuige de in hoofdzaak aanstekelijke countryliedjes: The Big Guns, The Charging Sky, het Carpenters-achtige You Are What You Love en een verrassende cover van The Traveling Wilburys' Handle With Care. Het plezier spat er bovendien vanaf in de geweldige single Rise Up With Fists!, voorzien van een Beverly Hillbillies-achtige videoclip.
Lichtvoetig en geestig is dit Rabbit Fur Coat, maar ook gedegen en tjokvol mooie liedjes. En zomaar een van de beste countrypopplaten van 2005 of van 2006: Rabbit Fur Coat verschijnt in Amerika op Team Love in januari 2006, maar in de rest van de wereld al in 2005, op Rough Trade.
Run Devil Run | The Big Guns | Rise Up with Fists! | The Charging Sky | Melt Your Heart | You Are What You Love | Rabbit Fur Coat | Handle With Care | Born Secular | It Wasn't Me | Happy (Reprise)