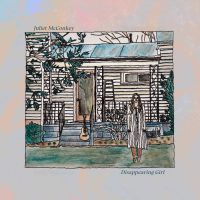 Alles is goed aan Disappearing Girl (eigen beheer) van Juliet McConkey. Dan weet u dat alvast. Teksten, zang, muzikale omlijsting, produktie, lengte van het album, het geheel dus. Juliet McConkey is een nog jonge singer-songwriter die een aantal jaren geleden vanuit Virginia naar Austin Texas trok om echt werk te maken van haar artistieke aspiraties. Dit Disappearing Girl is haar debuut. Om te huilen zo mooi. Allereerst die teksten. McConkey weet situaties prachtig te verwoorden en strooit met literaire vergelijkingen. You put your mind in a bottle thrown as far as you can out to sea / Is it a curse or a blessing that it washed up right next to me? (uit Las Vegas Gambler). De tekst van Tempered Hands zou ik hier eigenlijk in zijn geheel willen citeren, maar ik volsta met: He comes home from work, a long day in his eyes / It's dark like the smudges from a tyre / She puts dinner on our plates and he don't hesitate to criticise / Shе looks at me with a reassuring smile / Says I'vе got a tempered mind / It's really no big deal / The words that used to hurt now I hardly feel. In Dollar In My Pocket beschrijft McConkey de gene die we voelen als we een verlopen straatmuzikant/zwerver passeren. Geven we wat of lopen we door? En waarom voelen we ons dan beschaamd? Zo treffen de negen countryfolkliedjes telkens de roos. De begeleiding is meestal spaarzaam maar zeer effectief, door  Richie Millsap (drums), Trevor Nealon (toetsen) en Scott Davis (gitaren, bas, banjo, accordeon en ook produktie). Disappearing Girl is geen album dat u dansend door de kamer voert, maar al luisterend aankomt als een mokerslag.
PS McConkey is trouwens de vriendin van James Steinle, maar die zult u op dit album niet aantreffen.
PPS Album is verkrijgbaar via de site van McConkey.