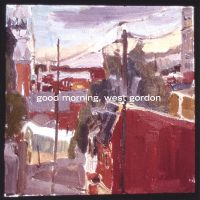 Een op zichzelf staande, wat verlaten, vereenzaamde plaat is dit Good Morning, West Gordon uit 2004; er was een album ervoor, maar niets erna. De makers ervan, One Star Hotel, kwamen en gingen in de nacht. Opgericht in Philadelphia, Pennsylvania, door zanger, gitarist, toetsenist en componist Steve Yutzy-Burkey, die zijn band aanvankelijk Stereo Field noemt, vervolgens omdoopt tot One Star Hotel en dan de oorspronkelijke naam behoudt voor zijn eigen platenlabel.
Deze Yutzy-Burkey is eenvoudigweg een muzikale tovenaar, want wat hij de luisteraar voorschotelt op het tweede album, Good Morning, West Gordon, is van de allergrootste pracht. Steve Yutzy-Burkey heeft dezelfde neusverkouden stem als Jeff Tweedy in zijn beste dagen, zodat de songs op Good Morning, West Gordon vergelijkbaar zijn met die van Wilco's Summerteeth (1999) en Yankee Hotel Foxtrot (2001); eenzelfde weemoedige schoonheid. Yutz-Burkey voorziet zijn composities ook nog eens van grootse arrangementen waarin strijkers, mellotron en de pedal steel van Mike 'Slo-Mo' Brenner figureren. Frustrated and Free, Kings, Two and Four, Same Town en ook het hartverwarmende titelnummer zijn dan ook echt schitterende liedjes op het snijvlak van moodpop en alt.country. Met zijn twaalf voortreffelijke songs is Good Morning, West Gordon een klein meesterwerkje dat niet vergeten zou mogen worden, maar het wel is.
Na een Europese tournee in het voorprogramma van Wilco in 2005 komt het korte bericht dat One Star Hotel zijn boeltje inpakt en iedereen gedag zegt. Good Morning, West Gordon zou dus niet vergeten mogen worden. Waarvan akte.
Frustrated and Free | Can't Be Trusted | Starlight | Kings | Falling Down | Two and Four | Same Town | River Drive | This Fall | Thunderhead | Good Morning, West Gordon | In the Spring