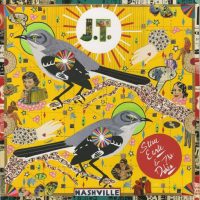 Op 4 januari, op wat de 39ste verjaardag van zijn zoon zou zijn geweest, bracht Steve Earle het album J.T. (New West/PIAS) uit. Een album waarop hij songs van de in augustus 2020 veel te vroeg, door drugsgebruik, overleden Justin Townes Earle covert. Ik heb bij beluistering van het album met opzet alle begeleidende stukjes ongelezen gelaten, de emotionele ballast even gelaten voor wat hij is, en me geconcentreerd op de 11 liedjes. En geconstateerd dat dit een puntgaaf album is. Natuurlijk, Earle maakt er een echt Earle-album van. Met robuuste en vakkundige rootsy begeleiding door The Dukes en gezongen met de kenmerkende grofkorrelige stem zet hij de liedjes van JT naar zijn hand. Bovendien pakken Earle en co de songs met een zekere tederheid aan, zodat er voldoende lucht in blijft zitten. Precies goed! Tsja en dan toch de context. Earle sluit dit album af met de enige niet-cover, het door hemzelf geschreven Last Words, waarin hij zingt: "Last thing I said was, 'I love you / And your last words to me were, 'I love you, too." Die woorden werden gezegd tijdens een telefoongesprek de dag voorafgaande aan de nacht waarin JT stierf. Ik kan me niet voorstellen hoe het moet zijn om die woorden te zingen, ik kan me ook niet voorstellen hoe het voor Steve Earle moet zijn om deze songs van zijn zoon te spelen. De verhouding tussen Steve en JT is niet altijd even goed geweest -Steve gooide hem ooit eens uit zijn band- maar de laatste jaren was die hersteld en het blijft hoe dan ook je kind. Earle heeft er voor gekozen om op deze manier om te gaan met het overlijden van zijn zoon. Als je die wetenschap bij beluistering werkelijk tot je door laat dringen, maakt dit van J.T. een zwaar emotionele ervaring. Dat kan voor sommigen ook een belemmering zijn. Ik vind het mooi.
Overigens gaan de opbrengsten van dit album naar de dochter van Justin Townes Earle en haar moeder.
J.T. is nu digitaal te beluisteren; cd en LP worden in maart uitgebracht.