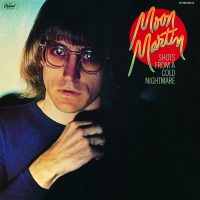 John Martin, geboren in 1950, vormt met zijn vrienden aan de universiteit van Oklahoma City een rockabillyband, The Disciples. In 1967 verhuist de club, op zoek naar succes, naar de gouden kust. Ze scoren een platencontract, met daarbij een verplichte naamsverandering naar Southwind. In 1968 verschijnt Southwind, een psychedelische popplaat, de daarop volgende jaren gevolgd door twee albums die vroege countryrock etaleren, maar allerminst een deuk in een pakje boter slaan. Als Southwind wordt opgeheven gaat drummer Eric Dalton naar The Flying Burrito Brothers, zanger-gitarist Jim Pulte op zoek naar solo-succes en verhuurt John Martin zich als sessiemuzikant, onder anderen aan Linda Ronstadt. 
Als de jaren zeventig naar het eind lopen is er opeens een nieuwe golf – new wave – van muzikanten die rockabilly vermengen met punk en ambachtelijke liedjes. John Martin is daar een van, al heet hij nu Moon Martin – omdat in zijn teksten regelmatig de maan voorkomt. In 1978 mag hij voor Capitol Records zijn debuutplaat opnemen. Als producer komt Craig Leon (Ramones, Blondie) over van de oostkust naar de westkust – en met hem Martins begeleiders – om in de Sound City-studio in Hollywood Shots From A Gold Nightmare op te nemen. Craig Leon bespeelt ook nog eens de piano en het orgeltje; Willy Alexander pingelt ook mee; Gary Valentine van Blondie bast; en Phil Seymour uit The Dwight Twilley Band drumt. Moon Martin zingt met een wat aarzelende stem, maar speelt, zo blijkt gelijk al uit de opener Hot Nite in Dallas fantastisch gitaar. Een heerlijk opwindend nummertje, en zo zijn er meer op dit enthousiaste debuut: Paid Killer, Cadillac Walk, Hands Down en You Don't Care About Me zijn dan ook ware poppareltjes. Maar ook een lekkere country-slijper als Night Thoughts doet het bijzonder goed, al wordt alle aandacht echt wel weggezogen door de Moon Martin-klassieker Bad Case of Lovin' You:
Doctor, doctor give me the news
I gotta bad case of loving you
No pill's gonna cure my ill
I gotta bad case of loving you
De eerlijkheid gebiedt daarbij wel te zeggen dat Bad Case of Lovin' You in 1979 tot internationale hit gebombardeerd wordt door Robert Palmer en ook Cadillac Walk een hit is, maar wel voor Willy DeVille. Anderzijds bevestigt het wel de compositorische kracht van de man met de nerdy looks en de lullige uilenbril: Moon Martin is een true hero. Shots From A Cold Nightmare is eind jaren zeventig wel zo'n mooi debuut dat navolging verdient, en dat ook krijgt met Escape From Domination (1979) en Street Fever (1980). Moon Martin blijft echter wel – concurrerend met Elvis Costello en Joe Jackson – jammerlijk een figuur in de marge.
Hot Nite in Dallas | Victim of Romance | NightThoughts | Paid Killer | Cadillac Walk | Bad Case of Lovin' You | Hands Down | All I've Got To Do | You Don't Care About Me | She's A Pretender