El Michels Affair – Bananagum – Deerhoof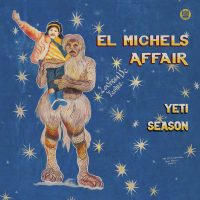 El Michels Affair is een collectief rond de uit New York afkomstige Leon Michels. Hij speelde jaren in de band van Sharon Jones en verder werkte hij met uiteenlopende artiesten als Lana Del Rey, Dr. John, Dan Auerbach, Wu-Tang Clan en Charles Bradley. Op Yeti Season (Big Crown/Konkurrent) stuurt hij zijn soul- en funkband langs avontuurlijke vergezichten waarbij de contouren van Turkije en India te ontwaren zijn. Je zou El Michels Affair kunnen beschrijven als een instrumentale band, maar er wordt wel degelijk gezongen op dit album. Piya Malik doet dat in het Hindi op opener Unathi. Door de trompetten klinkt het als een ontdekkingsreis van Calexico door Azië. Dhuaan begint met een surfgitaar, waarna Malik wederom in Bollywood lijkt te vertoeven. Op Idhar Udhar schuilt haar stem tussen schelle trompetten en een dwarsfluit. Sha Na Na voert langs donkere baslijnen – funk is de basis immers – en hier is het Shannon Wise van The Shacks die zingt. De hele plaat is een feest van tinkelende percussie, piano en tetterende blazers, gebouwd op een groove van bas en drums. Met ook nog een psychedelisch gitaarwerk. Altcountry is het niet, dus staat El Michels Affair hier in de roundup. Dit stukje stond ook in de cultuurbijlage van Dagblad van het Noorden en Leeuwarder Courant en daar deelde ik vier sterren uit voor deze avontuurlijke plaat.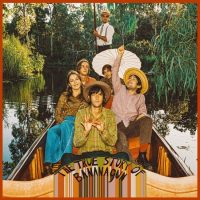 Bananagun uit Australië heeft nog veel meer munitie op zak. The True Story Of Bananagun (Full Time Hobby) is een wonderlijke belevenis waarbij je van Kid Creole And The Coconuts vliegt naar Mamas And Papas. En van Martin Denny naar Jimi Hendrix. Van Earth And Fire naar King Sunny Ade. En van Santana naar The Who. Dat alles en nog veel meer komt langs, zonder ook maar ergens rechtstreeks te citeren uit nummers van die artiesten. Een bedwelmende ervaring die terug lijkt te gaan naar de jaren 60. Was het een roes? Zaten we in Afrika of in Latijns-Amerika? Was het lounge, was het funk? Een tropische verrassing, dat zeker. Mushroom Bomb!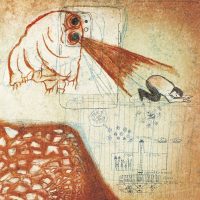 Nog meer chaos brengt Deerhoof. Future Teenage Cave Artists (Joyful Noise/Konkurrent) is een album dat handelt over een onzekere toekomst, met mensen die op onconventionele wijze trachten te overleven. Met tegen elkaar in werkende structuren bouwt de Amerikaanse band liedjes die linksaf slaan waar je eigenlijk liever rechtsomkeert zou maken. Met een beetje goede wil meen je iets te horen als een surfgitaar op New Orphan Asylum For Spirited Deerchildren, maar zoals zo'n titel van het liedje al duidelijk maakt, dit is iets anders dan Link Wray in de woestijn. Freaky is het allemaal wel, dus dat schept de vrijheid om Doug Sahm even te noemen. Om het toch maar iets naar de belevingswereld van ons volkje, simpele rootsrockers en alternatieve liedjesluisteraars, te trekken. Intrigerende plaat. Zodat je je afvraagt of je misschien alsnog in ouder werk van Deerhoof moet duiken.