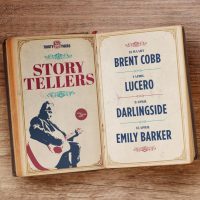 Echt een mooi initiatief van TivoliVredenburg. We citeren hieronder gewoon maar even het volledige persbericht. Een ronkende tekst, maar dat mag in dit geval best.
"In een tijd dat live-evenementen niet mogelijk zijn, gaan Shelter From The Storm, het roots en americana platform van TivoliVredenburg, en het Amerikaanse muzieklabel Thirty Tigers de samenwerking aan onder de naam 'Storytellers'.
Vanaf donderdag 25 maart 2021 presenteren ze elke donderdagavond vanaf 20:30 uur een gratis sessie met de allerfijnste americana- & rootsartiesten via de Facebookpagina van Shelter From The Storm. Van nieuw talent tot bekende namen als Brent Cobb, Blackberry Smoke en Trampled By Turtles.
De unieke samenwerking tussen het Nederlandse muziekgebouw en het label uit Nashville kwam tot stand uit een gezamenlijke drang om artiesten een podium te geven in deze moeilijke tijd. Thirty Tigers kent een indrukwekkend roster met grote namen als Jason Isbell en Lucinda Williams en relatief nieuwe talenten als Brent Cobb en Emily Barker. Artiesten die allemaal staan te popelen om weer te spelen voor hun Nederlandse fans.
Loek Hendrikx, marketeer bij TivoliVredenburg: 'Door met Shelter From The Storm een platform te bieden waar deze artiesten hun nieuwe nummers kunnen etaleren, proberen we de bands te helpen en tegelijkertijd americana liefhebbend Nederland kennis te laten maken met nieuwe talenten en iets bieden om elke week naar uit te kijken.
Amy O'Brien, European Digital Manager bij Thirty Tigers, over Storytellers: 'Het is heel belangrijk voor onze artiesten om de kans te krijgen om op deze manier voor het Nederlandse publiek te spelen. Vooral in een tijd waarin touren niet mogelijk is. Livestreamkansen zoals deze houden de band tussen artiesten en fans in stand, niet alleen met de Nederlandse fans, maar met fans in heel Europa. Daarom zijn we heel erg blij met deze samenwerking met TivoliVredenburg en kunnen we niet wachten tot onze artiesten weer echt live kunnen spelen in het Utrechtse muziekgebouw.
Vanaf donderdagavond 25 maart 2021 presenteert Storytellers elke donderdagavond om 20:30 een gratis sessie via Facebook
25 maart: Brent Cobb
1 april: Lucero
8 april: Darlingside
15 april: Emily Barker"