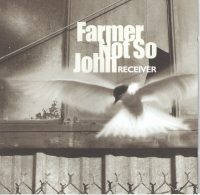 Farmer Not So John – belachelijker kan een naam bijna niet worden – is een band, of eigenlijk in de kern een duo, uit Nashville, Tennessee, die zich modelleert naar de alt.country van Uncle Tupelo. In overeenstemming daarmee verschijnt in 1997 de zelfgetitelde en zelfgeproduceerde debuutplaat, maar een jaar later is opvolger Receiver van een geheel andere orde. Mack Linebaugh (zang, gitaar) en Richard McLaurin (zang, banjo, gitaar, lap steel) profiteren dan van bijzonder gunstige omstandigheden; niet alleen zijn zij zelf verantwoordelijk voor voortreffelijke composities, maar ook qua productie en bezetting is Receiver een subliem alternatief countryrockalbum. 
In de  MonkeyFinger-studio in Nashville brengt producer Tucker Martine – inmiddels beroemd om zijn warme sound – een bonte verzameling muzikanten tezamen: Any Trouble's Clive Gregson (orgel), Matthew Ryan (zang, gitaar) en Daniel Tashian (Wurlitzer). Gevoegd bij studiomuzikanten op bas, drums en pedal steel heeft Receiver een even geavanceerde als rustieke sound. Maar het zijn natuurlijk de liedjes – en de schitterende zang – van Linebaugh en McLaurin die het hem doen. Het R.E.M.-achtige Consigned To Oblivion en het zinderende Grand Bouquet zijn geweldige countryrockers, maar de focus ligt overduidelijk op een weergaloze serie van weemoed druipende liedjes: Paperthin, Fuse. Rise Above The Wreckage en de pure country-droefenis van For You I Will Pretend. Prachtige rinkelende gitaren, zoemende orgels, waanzinnige sterke zangharmonieën en superieur melancholieke composities maken van Receiver een niet te missen klassieker in het zeg maar neo-countryrock-genre.
Het probleem is echter dat het ontvankelijke publiek Receiver wél gemist heeft, want een bescheiden pers en een klein label. Bovendien besluiten Linebaugh en McLaurin al snel na de release de handdoek in de ring te gooien – en valt Receiver direct ten prooi aan de vergetelheid. Desondanks, en in weerwil van de ridicule bandnaam, is Farmer Not So Johns Receiver een soort van obscuur klein alt.country meesterwerkje. 
Paperthin / Fuse / Consigned To Oblivion / Rise Above The Wreckage / For You I Will Pretend / Undertow / No Time To Please You / Me Too / Grand Bouquet / Pen Across The Page