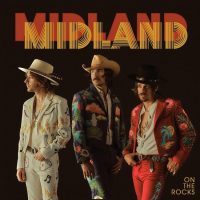 Wat is dit? Het lijken wel clichémannetjes in Nudie-suits. En bij nadere beschouwing: dat is ook zo. Maar bij god, wat hebben ze met On the Rocks een heerlijke oldschool countryplaat in de markt gezet. Al heb je als rechtgeaarde alt.country-liefhebber niks op met de hedendaagse gladde country uit Nashville, Tennessee, dan nog ga je voor de bijl voor Midland en hun On the Rocks. Hoe kwamen Mark Wystrach (zang, gitaar, onderbroekenmodel), Jess Carson (zang, gitaar) en Cameron Duddy (zang, bas) elkaar tegen? Wel, ergens in Wyoming, op een huwelijksfeest van een vriend in 2016. En dan kan het snel gaan als wat commerciële boys uit Nashville zich ermee gaan bemoeien. Aldus verschijnt in oktober 2017 het in Nashville opgenomen debuutalbum On the Rocks. 
Hoewel de boys hun eigen nummers schrijven, alles zelf zingen en ook wel wat snaren beroeren, leunen ze zwaar op de pedalsteel, gitaarlicks en drums van ervaren sessie-rotten. Midlands sound is ook nog eens hyper-retro omdat perfect leentjebuur gespeeld wordt bij jaren zestig- en zeventighelden als Merle Haggard, Waylon Jennings en Johnny Paycheck, maar ook bij jaren tachtig-contenders als Dwight Yoakam en Billie Ray Cyrus. Midland richt zich dan ook op standaard clichématige songs die zijn vervuld van een lach en een traan, en uiteindelijk alleen maar over liefdesverdriet en overmatig drankgebruik gaan. Neem nou Drinking Problem: 'People say I got a drinkin' problem / But I got no problem drinkin' at all. En: They call it a problem, I call it a solution.' Heerlijk, want het aanstekelijke enthousiasme verhult de ingetrapte open deuren en de platgetrapte paden in een geweldige serie klasse-countrysongs; we weten immers dat clichés gewoon waar zijn. Zeker in het Nashville-country-idioom. 
Per saldo zou je dan ook niets anders willen dan in een roadside stand, truckerscafé of – het meest ideaal – in de cabine van een zestientonner, denderend door de Midwest, genieten van de dertien knipogende en tranentrekkende countryliedjes die tezamen Midlands On the Rocks vormen. Classic country number one.
Lonely For You Only | Make A Little | Drinkin' Problem | At Least You Cried | Burn Out | Out of Sight | More Than A Fever | Check Cashin' Country | Nothin' New Under the Neon | This Old Heart | Altitude Adjustment | Electric Rodeo | Somewhere on the Wind